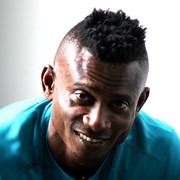 Contact
Log in to view contact details
Stephen Emelieze
Stephen has dedicated his whole life to Sport and fitness, he started as a professional athlete, which has left him with over 15 years of experience in professional athletics coaching, both as a competitor and coach. he has trained and competed at both national and international stage with different levels of Olympics athletes. Currently, he trains the University of Birmingham Athletics Sprint team. He believes that part of being a good trainer means being a good role model, and in order to maintain his physical fitness he trains hard and smart, never skips a planned training day. His enthusiasm and attention to detail never fail to rub off on his clients and athletes. He has successful experience of working with a wide range of clientele ranging from high profile executives, professional athletes and individual with any fitness goal in mind. he is adept at efficiently getting his people to achieve an array of sport specific, weight loss, and body shape goals.
Stephen specializes in strength and conditioning for sports, functional training, circuit and high intensity interval training, to help his clients get stronger while losing weight, this in return increase their confidence. He has achieved remarkable success in helping people improve their speed, power and agility notably in athletics, triathlon, football, rugby and endurance events. He is also adept at designing realistic and effective training plans to supplement the lifestyle needs of his clients. His results are based on effective lifestyle change, incorporating a balance between relevant exercise and appropriate nutrition. He has taken all his years of elite training by Olympics coaches and applied this to his personal training endeavours with a combination of practical experience and academic expertise in the field of Sports Management and Coaching makes Stephen a versatile and knowledgeable trainer who always aims to incorporate a wide variety of exercise techniques in his sessions. His programming is designed to get you to your goals fast, whilst having a challenging and enjoyable time. The skills he has acquired will benefit all prospective clients to attain the level of fitness they desire.
Stephen believes that education is just as important as participation, and applies this belief into his training methods. "To achieve your goal, you must first be able to understand it". So whether is weight loss, training for an event or just want to generally get stronger and improve your fitness level Stephen knows the most efficient and effective way to get you the best results as quickly and safely as possible. dont hesistate to tap into his knowledge.
Specialist Areas
Bespoke plan
Body confidence
Body fat reduction
Muscle tone and development
Nutritional guidance
Persistent motivation
Sport specific training
Strength and conditioning
Weight loss
Qualifications
Sports Coaching (MSc.) ongoing

Sports Management (BSc.)

Level 3 Certified Personal Trainer

Level 3 Certified Exercise Referral

Level 3 Nutrition

Level 2 Fitness Instructor

UKA Certified Athletics Coach

First Aid