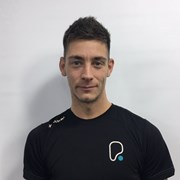 Steve Munro
Sick of getting no results?
Maybe it's time to try Personal Training and changing your life. 
I've had many clients who came to me with body confidence issues;
They don't like what they see when they look in the mirror
They don't fit into their favourite clothes anymore. 
Things aren't as 'toned' as they used to be. 
They slugged away on the treadmill getting no results
They made the step to change all that. My clients get results. Leading to;
Reductions in body fat
Increased confidence and self-esteem 
Learning what to do in the gym and why
Improvements in nutrition and understanding 
Improvements in mood and personal life
Make that step now - Don't try a fad diet that will take your money and not give you results.
Check out the results my clients have been getting on Facebook at Steve Munro Personal Training.
You don't need to know why I am a Personal Trainer or how much I love my job. What you do need to know is that I can guarantee results. 
Book a free consultation now.
Specialist Areas
Body fat reduction
Muscle tone and development
Nutritional guidance
Sport specific training
Weight loss
Qualifications
Bsc (Hons) Sports and Exercise Science
Active IQ Level 3 Personal Trainer
HND Fitness, Health and Exercise
Studio Cycling
Gym Based Boxing