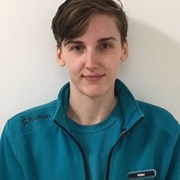 Vikki Hepple
I'm Vikki and I'm a Personal Trainer here in PureGym Sunderland. I am the owner of 95 Fitness and I would like to welcome you to the team!
A little bit about me, I was always an active kid. I was always the one kid running about full of energy. I joined a football team when I was a little bit older and stayed with that team for seven years. As I got to a teenager, I fell out of love with playing football. Over the years I slowly started to turn my attention to the fitness side of things. Why people train in the gym. How the body moves during exercises. How does it help people's performance with daily tasks. Then I went to college to become a Personal Trainer and I haven't looked back since.
I specialise in the areas of muscle/tone/strength for both men and women. I know what It feels like not being able to put on muscle. I know what it feels like to not be able to put on weight. I get it. It's hard. It's frustrating at times. Sometimes you want to stop because you aren't seeing any changes in your body or on the scales. Changes take time. I'm here to help with those changes.
I offer tailored Personal Training to suit you and your fitness goals, nutritional advice to help you find what works for you and group training. We will work together to reach your goals. You can contact me via email or text between the hours of 8AM – 8PM Monday to Friday and Sunday.
So why not join the team?
Specialist Areas
Body confidence
Body fat reduction
Muscle tone and development
Nutritional guidance
Persistent motivation
Sport specific training
Weight loss
Qualifications
Level 3 Personal Training
Level 2 Gym Instructor
Emergency First Aid at Work