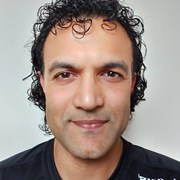 Vishal Urjoon
I see exercise as a key component of a healthier lifestyle. As a former asthma sufferer, I can appreciate the benefits of exercise in my life. In order to pursue my own fitness aspirations, alongside working and being a father, I understand how tough it can be to find a balance. I can offer first-hand advice and help you fit a healthier lifestyle around other life priorities. 

I realise the importance of goal-oriented and regular training.
My fitness journey has had its highs and lows but being able to run and play with my son while watching him grow is what drives me.

I have developed a deeper understanding of exercise as a means to enhance lifelong wellbeing. I take a personal interest in advising my clients with health concerns and medical conditions. I am passionate about living a healthy lifestyle and strive to inspire others to do the same. 

It is all about making small changes for longer and more sustainable results.
Your journey for a stronger, fitter version of yourself starts today...and there's no better time than now.
Specialist Areas
Bespoke plan
Body confidence
Body fat reduction
Muscle tone and development
Persistent motivation
Weight loss
Qualifications
Level 3 Personal Trainer
First Aid
Diploma in Swedish Body Massage