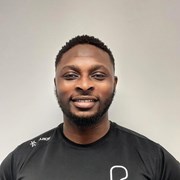 Yusuf Olowolagba
Getting fit and healthy does not have to be difficult, believe it or not, it can be fun. Difficulties often arise from the plethora of contradicting information out there, which can make things very frustrating and confusing. But you're not alone; I care deeply about my clients and there is nothing of more value to me than helping my clients go through an experience that makes them happy, confident and strong. I find joy in helping you make healthier food choices and showing you how to get your desired body.
I realise how being overweight affects many aspects of your life. I want to share with you, the benefits and joys of training that helped me become the person I am today.
I was inspired to pursue a career in fitness after overcoming my excessive weight gain and insecurities that rose from my inability to build muscle or maintain a good diet. However, through healthy nourishment and a consistent regiment, I have been able to transformation myself. I was at my heaviest at 110kg with excess body fat, I am now at my happiest and crushing it at 90kg.
If you are interested in getting started, you can sign up for one of the packages today. You will not only look good but also feel better, happier and more confident. All you have to do is take the first step on the journey to your new life. New clients get free consultation and assessment.
Specialist Areas
Body confidence
Muscle tone and development
Nutritional guidance
Strength and conditioning
Weight loss
Qualifications
Level 2 Certificate in Fitness Instructing
Level 3 Diploma in Gym Instructing and Personal Training (Practitioner)
Kettlebells Pro
Pad Work for PTs
Certificate in Studio Cycling
Emergency First Aid at Work