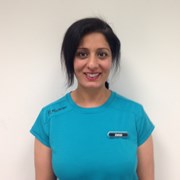 Zahida Bibi
My personalised programmes tailored to you and your short or long term goals will unlock the strength potential you never realised you had within you!
Training will be fun, rewarding and delivered with a smile, with progress evident in just a matter of weeks. Results guaranteed! Along the way I will help you develop healthy lifestyle choices and empower you with the knowledge and skills to manage your own life-long fitness goals for many years to come.
An additional benefit of my training style is the concurrent development of a positive mindset, which will make you more confident in how you deal with other people and how you approach tasks and problems in other elements of your life.
As an aside, I believe it is useful for clients to know who coaches the coaches. I received my strength training from national and international competition level coaches and have competed on several occasions myself. I still get regular updates and tweak to my own programmes and technique by a GB coach and it is this wealth of experience that I pass directly on to my clients in the gym.
If this sounds like what you are looking for then please speak to me in the gym or contact me via text, social media or email to arrange a free consultation/trial session. Individual and group bookings available.
Specialist Areas
Body confidence
Body fat reduction
Strength and conditioning
Weight loss