5 easy and tasty snack swaps that will make you instantly healthier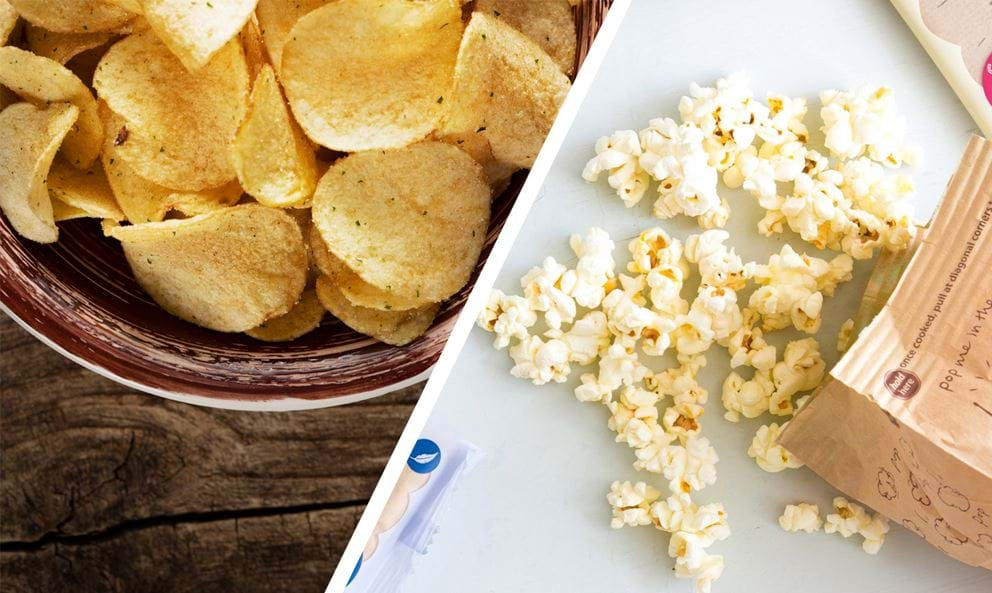 We're big believers in the power of the swap. Swapping your usual snacks like crisps and chocolate bars for more nutritious, lighter alternatives is a great way of improving your diet.
The most satisfying and efficient snacks have a balance of protein, great fats and fibre. These three combined will carry you through to your next meal nicely, so aim for nuts, seeds, chickpeas, dips & fresh veg.
 PureGym members can redeem a graze box for free- click here to find out how
Another way to snack a little lighter without missing out on flavour is by making the most of herbs and spices. Roasting chickpeas with smoked paprika, or adding cinnamon to your popcorn, will lift the flavour without needing any added salt or sugar.
Here are 5 easy swaps that are high on flavour and low on calories:
1.   Swap fizzy drinks for fruit infused water

Our bodies often confuse thirst for hunger, so it's important to keep yourself hydrated. Try to avoid fizzy drinks which are full of sugar and make you bloated, and don't fall for diet sodas which are made with artificial sweeteners that just leave you craving more!
Adding your favourite fruit will infuse the water with delicious fresh flavours, and you can even add a tablespoon of chia seeds to give your beverage a nutritious boost. Our nutritionist's favourite combo is fresh pineapple and lime.
2.   Swap a chocolate bar for a protein bite

Trying to eat healthier but still need a sweet fix? Instead of buying, store bought chocolate, try a snack that is made with natural ingredients and packed with protein. Our favourite at the moment is graze's protein bites, handmade with rustic rolled oats in delicious flavours like cocoa & vanilla.
This snack has a good source of both protein and fibre, and is much more nutrient dense than chocolate. Plus, it contain healthy fats from the seeds which help to keep you more satiated, so you'll be satisfied with less and feel full for longer.
3.   Swap bagels or wedges for sweet potato toast

 In this age of eating on-the-go it can be hard to fit in the recommended amount of fruit and veg, and our bodies can end up crying out for more vitamins and minerals, especially in the dark days of winter.
If you're feeling sluggish, and like your body just needs a vibrant boost, it could be time for you to start eating more fruit & veg - and sweet potato toasts are a fabulous way of doing just that!
Just cut the sweet potato into slices just over half a cm thick and put into your toaster. Toast on high twice making sure the whole slice is cooking, the result will be slightly browned sweet potato toasts. Add the spread and toppings of your choice, they can be sweet or savoury. We love a layer of almond butter topped with a fruit and nut snack from graze.
4.  Swap fried potato crisps for dried veggie crisps

Vegetable crisps definitely have the health advantage over potato crisps! Veggie crisps from graze are dried instead of fried, which creates a naturally delicious wholesome snack that have many more vitamins and nutrients than fried potato crisps.
Add to that the fact that veggie crisps usually don't require as much added salt as potato crisps because of the naturally delicious flavours from the vegetables.
Worried about compromising on the moreish crunch? No need to worry – air drying gradually removes the moisture from the vegetables, which helps create the same crunchy crisp texture that we all love!
5.  Or swap crisps for flavour-packed popcorn

If you're looking for a snack that is low in calories yet still filling, go for popcorn.
Popcorn is a favourite snack for nutritionists because it's high in fibre and a source of vitamin E which helps protect cells from oxidative stress.
The good news is that you can now find healthier pop-it-yourself popcorns in supermarkets. At less than 150 calories per pack, graze's popping corns is a great choice, without ruining dinner!
Fancy your first graze subscription box for FREE?
Discover all these snacks and over 100 more from the graze kitchen, nutritionist-approved and delivered to your door.

If you're a Pure Gym member, log in to our website and head to your member benefits to claim your exclusive offer where you can have your first box for free + 15% off all future boxes! Hurry, offer ends 28th of February!