Join the party with this energetic, upbeat aerobics class - a great workout designed to suit all fitness levels. We will lead you through an easy to follow choreographed routine to music for a total body workout. Prepare to sweat and have fun! Great if your goal is weight loss or general fitness.
HOW TO BOOK A CLASS
It's so easy to book classes on the PureGym App or on our website by simply selecting your chosen gym, viewing the class timetable and finding a class and time that suits you!
If you are new to classes, let your instructor know when you arrive, and they will help you get started – all of our classes cater for all abilities, so you can work at your own pace.
WHAT TO WEAR
Come dressed in comfortable, breathable non-restrictive clothing – remember, our classes will get you moving! Don't forget to bring a towel to freshen up and a water bottle to hydrate (we have water fountains in every gym to refill any reusable water bottle).
FREQUENTLY ASKED QUESTIONS
An aerobics class consists of choreographed exercises to music. Classes last 20-30 minutes and offer a total-body workout that can help develop stamina, endurance, and mobility.

Heart-pumping aerobic exercise can help you to lose weight, by increasing your energy expenditure. When it comes to losing fat the main factor to consider is your energy balance. If you are goal is fat loss, you will need to consume less energy than you are using.

In an aerobics class, you'll bounce, jump, twist, jog, squat and dance your way. Your body is continuously moving and burning calories. If you enjoy aerobics, going to this class consistently can be a fun way of achieving weight loss. To lose weight, you'll need to burn more calories than you eat.

Other types of aerobics include, water aerobics, step aerobics, swimming, kickboxing and cycling.

Aerobics is a high-energy exercise class with music. You'll be moving your whole body at a fast pace which can help to improve your cardiovascular fitness and to a certain extent help tone your body.

It's a good idea to include 30 to 45-minute aerobic exercise in your weekly routine to help maintain your general fitness. However, if your primary aim is to build muscle mass, aerobics can only add so much strength and muscle to your frame. We would recommend prioritising weight training.

High impact aerobics include routines where your body comes into contact with the floor, harder and more often, so more force is being applied on the joints. During low impact aerobics, your body will be in contact with the floor, reducing the stress on the muscles but it doesn't mean it is less challenging or effective.

Mostly, aerobic and cardio exercise is similar. Both terms refer to exercises that have the same goal and achieve identical results: improved fitness by increasing both your oxygen intake and heart rate.

The NHS recommend doing at least 150 minutes of moderate intensity activity a week or 75 minutes of vigorous intensity activity a week. If you wanted, you can incorporate aerobics to help you meet this recommended guideline.

The calories you burn depends on many factors such as your height, weight and muscle mass. Aerobics can be intense and require a lot of energy moving your whole body at a fast pace. As a rough guideline, you can expect to lose up to 400 calories in 40 minutes.
MEMBER THOUGHTS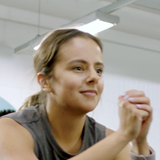 "I've learnt how moving to the music in Aerobics can be a really fun workout. I've met so many new people and have made friends through this class. I think it's great and it has improved my confidence more than I thought it ever would!"
Barbara T.
CLASS INSTRUCTOR THOUGHTS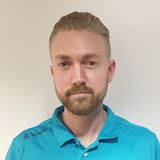 "I enjoy teaching Aerobics as it gives you the opportunity to improve your fitness and burn lots of calories - all while having fun! It gives off an energetic buzz which has members smiling and sweating through the entire class!"
Phil Berners