Pump Class
Fitness level:

All abilities
Duration:

30-60 minutes
If you're looking to tone up, build muscle or burn fat, this Pump class using weights will give you an all over, total body workout. As you lift, curl and lunge your way through the range of upbeat exercises, the time will fly by.
HOW TO BOOK A PUMP CLASS
It's so easy to book classes on the PureGym App or on our website by simply selecting your chosen gym, viewing the class timetable and finding a class and time that suits you!
If you are new to a Pump class, let your instructor know when you arrive, and they will help you get started – all of our classes cater for all abilities, so you can work at your own pace.
WHAT TO WEAR
Come dressed in comfortable, breathable non-restrictive clothing – remember, our classes will get you moving! Don't forget to bring a towel to freshen up and a water bottle to hydrate (we have water fountains in every gym to refill any reusable water bottle).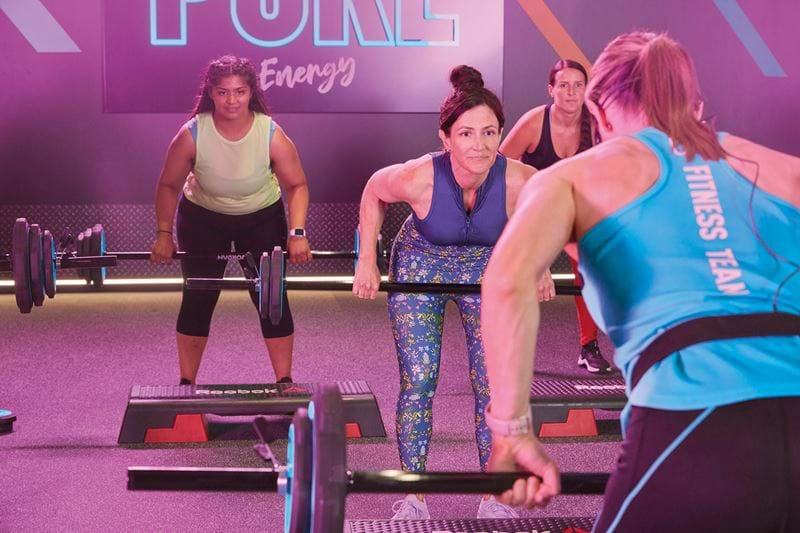 FREQUENT ASKED QUESTIONS
Pump is a resistance workout that uses a barbell with light weights and high reps. Exercises (usually about 6) are done to fast paced music.

The calories you burn depends on many factors such as your height, weight and fitness level. You can expect to burn around 500 during a 50 minute pump class.

Pump is a fun class to help you burn calories, lose weight and build muscle. As you build muscle, you'll increase your metabolism, which can help you to burn calories after the class has ended. The main thing in achieving weight loss is to be in a calorie deficit - if going to pump classes helps you achieve this, and you enjoy it, it can be a great way to lose weight.

High reps and low weights make the pump class one of the most gruelling. Expect constant movement, heart raising exercises and buckets of sweat. Coupled with a calorie deficit, pump classes can help you to burn off fat.

The barbell weight at pump generally ranges from 1 to 2.5kg. If want to know the weight of the pump you're using in your class, please ask the instructor.

The number of times you do pump in a week will depend on factors such as your fitness goal, time needed for recovery, how much you enjoy it etc. If you enjoy it, including it as part of your workout routine regularly can be a great way to keep active. Make sure you have time to recover properly between classes. Pump workouts are intense, so check with your medical professional if you have a health condition.

Pump classes vary, but you can expect a mix of squats, deadlifts, lunges, bicep curls, push ups, chest presses, overhead presses and crunches.

Pump is a popular barbell workout and can be a really effective full body workout that you do in under an hour.

Pump is also fun and energetic. If you want to strengthen and tone your entire body, this class is for you.

There's no pressure to lift heavy weights in a pump class. Classes usually include high repetitions using light weights, but if you feel like you need to lift more weight as you get stronger, you can.

Use a weight that's comfortable for you and if you're not sure, ask the instructor.

If you think your weight is too heavy, stop for a few reps and reset – or drop to a lighter weight.

Yes! Pump classes can be great for toning as they involve lifting weights to help build muscle, which in turn can help shape and tone your body. If you want to tone your body, weight training is essential. Just make sure that the workout is challenging enough but not too challenging to the point you over exert yourself.
MEMBER THOUGHTS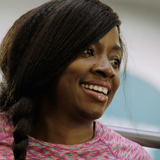 "By attending these classes it's really helped to improve my strength and power. Pump has allowed me to feel not only physically stronger but also mentally stronger as well. No matter if you're a beginner or you're in the advanced stages of training it's suitable for all levels."
Evette E.
CLASS INSTRUCTOR THOUGHTS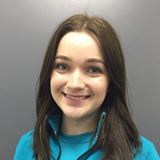 "I love teaching pump because this class is like no other. You work with weights targeting as many different muscles as you can to really work on changing your body shape and building strength. Each week I see members getting fitter and stronger, pushing themselves a little further; a great class to attend if you are looking to mix up your routine and try something new to compliment your cardio workouts!"
Nicola Need