A winning Summer at PureGym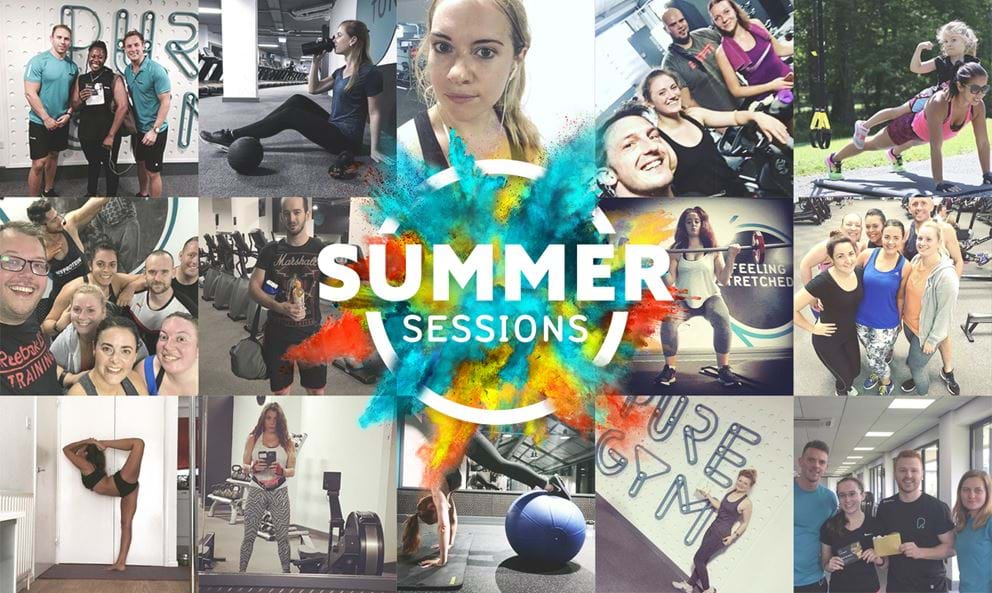 As summer draws to a close and our 100 days of Summer giveaways ends, let's take a look back at our fantastic #PureGymSummerSessions
This summer we wanted to help our members enjoy the sunshine from in and out of the gym, and also say a massive thanks for being so great! So we pulled together our top summer workouts, recipes and member transformation stories – which you all shared in our #PureGymSummerSessions photo gallery! We also gave away loads of great prizes, including over 1000 gold, brass and silver envelopes which were hidden all over our gym lockers to give a little surprise! Over the summer our members have won:
£1500 worth holiday vouchers
800 Low calorie Lucozade bottles
200 free day passes
200 x Amazon vouchers
25 x one month free membership
6 x £250 worth of New Look vouchers
2 x 12 month free membership
£500 cash
Apple watch Series 2
Huge congratulations to our winners and thanks to everyone who came in and completed their #PureGymSummerSessions. In fact, every Summer Session boosted your fitness so everyone's a winner! 
The #PureGymSummerSessions gallery
Hundreds of members shared their summer success stories using the hashtag #PureGymSummerSessions You can view the complete gallery here, but here's a small selection of our favourites.

'Workout could be fun especially when Bella's around!'

'@PureGym Check what I managed this summer at my Pure Gym with the help of PT David Holden.'

'Today was a good day, Monday motivation at its best! The sun was shining, so our PT decided to take us all out on a run....feeling accomplished and lucky to be with a great group of people.'
Your top 5 summer workouts 

You guys loved the below workouts over the Summer, but the great thing is that you can add them to your exercise regime any time of the year.
The Anytime, Anywhere HIIT workout
A 10-minute workout with no equipment that will give you a fantastic full body workout? What's not to love?
Lunch hour workouts for beginner, intermediate and advanced level
Strapped for time but want to make the most of your time in the gym? Then hit the link above.                                    
A full body workout that is so much fun you won't realise you're working out!
Dr Thienna Ho from Vietnam holds the record for the longest wall-sit with 11 hr 51 min 14 sec! What's your PB?
Many fitness gurus believe kettlebell swings are all you need for dramatic results. Try this workout and find out.
Your favourite summer recipes

Healthy eating and summer living don't always go hand in hand, but we made things a little bit easier with these delicious and nutritious recipes:
5 healthy alternative that with scratch your junk food itch
Click here to read how to make healthier versions of your favourite comfort food, including pizzas, burgers and chips.
As well as being delicious, did you know frozen bananas have an ice cream-like texture? Discover more healthy tips here.
Your summer nutrition myth busters

The truth about fruit and sugar
If your goal is weight loss, is fruit your friend or foe? Click the link to find out.
It's an incredibly popular diet but is eating like our hunter-gatherer ancestors all it's cracked up to be?
Your summer success stories
We love to hear about our member's incredible fitness journeys. Take a look at these inspirational success stories - it's a fantastic way to stay motivated! 

Read Andrew's 13 stone weight loss transformation. "Seeing other members in the gym work hard towards their fitness goals has been keeping me motivated." 

Discover how Samantha lost an amazing 3.5 stone in just six months at PureGym! "Little changes over time can lead to big changes and amazing results!"

Nick has lost over 7 stones in the 11 months he's been a member at PureGym. "I look and feel happier, and I'm always ready for my next gym session."
As we say goodbye to summer and the weather gets cooler and it gets darker earlier, it can be tempting to skip the gym in favour of staying inside curled up on the sofa with a warm cup of tea. 

If you ever need some motivation to get moving, check out the Motivation section of our blog to get you up and into the gym in no time. We'll also be posting regular blogs to help you stay on track so be sure to check out the blog every now and then!
All that's left to say is... here's to Awesome Autumn sessions!