Meet Dina Asher-Smith: 2018's fastest woman in the world and Britain's fastest ever woman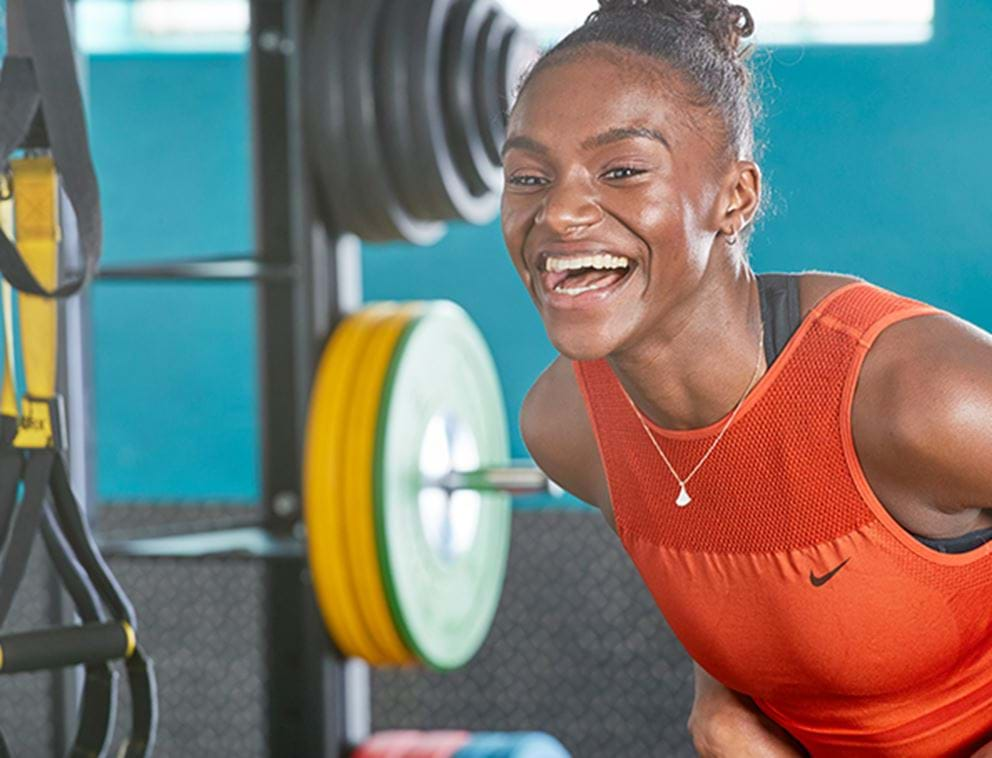 No British athlete has ever walked away from the World Championships with three medals around their neck. Until now.

Meet Dina Asher-Smith. PureGym Ambassador, 2018's fastest woman in the world, and Britain's fastest ever woman. Dina may only be 23, but she's taking the track by storm.
Dina is a World Champion, 4 x European champion, Bronze Olympic medalist and the British record holder in the 100 and 200m. Dina also became the youngest woman in history to run sub 10.9 seconds in the 100m, and sub 21.9 seconds in the 200m.
In short, Dina's fast. Very fast. But behind the speed, there's a bubbly 23 year old looking to inspire the younger generation and to make a difference in women's sport.
But how did Britain's Golden Girl get into track and field? From pocket rocket to queen of the track, Dina has made waves in the world of athletics from a young age.
By the age of eight, she had her sights set on the Olympics. Dina recalls how she was inspired after watching Dame Kelly Holmes make history and take home gold in the 800m and 1500m double in Athens.
Dina smiles as she explains "in true spirit of an eight-year-old, that wasn't what made me want to be an Olympian. It was the fact that when [Dame Kelly Holmes] got on the podium, they gave her what I thought was a crown". And from that moment, with the drive to become a "princess of Olympic proportion", there was no stopping her.

However, it was at the age of 16 at the London 2012 Olympics when Dina's passion and drive for athletics really came to fruition. While working as a kit carrier, Dina witnessed Super Saturday, Britain's triple gold medal winning day. She experienced first hand how proud and united the nation was to be part of such a momentous event. "That is what motivated me to take my athletics to the next level."
That motivation took her from a young girl who was happy to make junior teams, to a girl with the eye on the prize. "A World Championships in your home town is the closest thing you're going to get to a home Olympics, so I told myself next time there becomes the opportunity for a championship in London, I have to be there".
Dina then amped up her game, with the help of her coach John Blackie, who has been by her side from the very beginning. She went on to become the 2013 European Junior Champion along with the world's youngest ever female relay medalist, all at the age of 17.
At the age of 19, Dina rewrote British sprinting history and became the fastest British sprinter of all time clocking in a rapid 11.02 over the 100m. But she didn't stop there. Dina then was invited to her first Olympic Games in Rio 2016 and bagged an Olympic Bronze Medal in the 4 x 100m relay.

2017 rolled around, and Dina's London World Championship preparations were underway. 5 years of hard work and mental resilience had built up to this moment, and it all came shattering down.
Dina devastatingly broke her Navicular, a bone in her foot, only 5 months prior. She recalls the heartbreaking moment when she was told that she certainly wasn't going to make the World Championships.
Suddenly, everything that I had worked for, everything that I had dreamt about was taken away.

Dina Asher-Smith
The Navicular isn't just any old bone. Oh no. This is the one bone that any runner doesn't want to break. "[The doctors] expect that it takes some people a year to two to get back from that injury".
But Dina didn't let that stop her. "I wasn't going to let anybody tell me what was going to happen in 5 months time, when I had been dreaming about [the London 2017 Championships] for 5 years. I wasn't going to allow myself to fail. I promised myself that I was going to exhaust all possibility, I was going to work as hard as I could."

Fast forward a few months, and Dina defied all odds to step up to the race line in front of her home crowd and not only race but bag a solid 4th place finish in the 200m final. "I got called crazy, about a billion times that season, everybody was like you're absolutely nuts".
But Dina describes this as one of her proudest moments to date, and there's no wonder why. "I was very happy to not only have made it back, go through surgery, learn to walk, jog, run again and get to elite level in 5 months, but also come fourth in the world. I was just wholeheartedly grateful to be there because I was so close to that being taken away from me."
Since then, Dina has continued to get faster and faster. She went on to run a world-class time of 10.85 in 2018, crowning her the world's fastest woman.
There are so many millions or billions of women in the world, and to think I ran the fastest that year is so cool.

Dina Asher-Smith
Earlier this year Dina also became the first British woman to ever win the Diamond League, clocking in a rapid 10.88. She took to social media shortly after to share: "Woohoo! Think it was the glittery eyeshadow that did it… *buys all the glittery eyeshadow I can possibly find before World Champs."

The 2019 World Championships were no different. Dina made history by becoming the first British woman to win a sprint medal in 36 years. She dominated the 200m to earn her status as a World Champion, clocking in an impressive new British Record of 21.88 seconds.
Dina also took home silver in the 100m, setting yet another British record of 10.83 seconds, and brought home a silver in the 4 x 100m relay.
Although Dina makes sprinting look a breeze, elite level sport is a tough gig, and only the very best can make a career out it. We often see the highs of elite sport. The glitz and the glam. The world record times. The podium finishes. But what we don't see is the long training days, the mental exhaustion, the tears and the injuries that go into world-class performances.
It's really interesting to hear what motivated Dina to endure it all and dedicate the past 15 years to becoming the best in the world. For Dina, she says that it's the drive and motivation to be the best person she can and to "always be continuously improving". 
She believes in Kaizen, the Japanese philosophy of continual improvement, living with the mentality that she can always be better than she was yesterday.
Honestly, when I wake up every day I just want to be the best athlete I can be and achieve the goals I set out when I was a young girl.

Dina Asher-Smith

Dina is now emerging as the world-class athlete that she looked up to for inspiration as a young girl. In our eyes, Dina is the epitome of a strong, empowered woman, and is inspiring the younger generation with her tenacity and drive to overcome adversity and achieve the unbelievable.
Dina also embodies the mentality that "you've got to run your own race" and just focus on becoming the best version of yourself. "Ultimately, it's what happens on the day, and when you stand on the line there may be people who are more talented than you. But you just have to focus on yourself and perform to the best of your ability".
She explains that in her eyes, "failure is not the end result, but a catalyst for growth".

Dina is reminding young girls all over the world that you don't always need to be the best, but you just have to show up, give your all and work to continually improve. Inspiringly, Dina also refuses to live by other people's limitations, and lives by the mantra that "everything is impossible until it's done".
Dina giggles as she follows with "I'm not saying that a woman is going to run 100m in 5 seconds, because that's a bit nuts... unless you've got a hover-board". But she explains that you've got to strive to achieve what may not seem possible. "I got told so many times that it would be crazy for a British woman to run sub 11 [in the 100m]". Yet, Dina became the youngest female in the world to break sub 11, and currently holds a lifetime best of 10.83 seconds.
Dina has stamped her mark in the history books at this year's World Championships, proving that you can achieve the unbelievable if you don't settle for other people's limitations. In the words of the Golden Girl herself, "the magic happens always outside your comfort zone".