Full Body Home Workout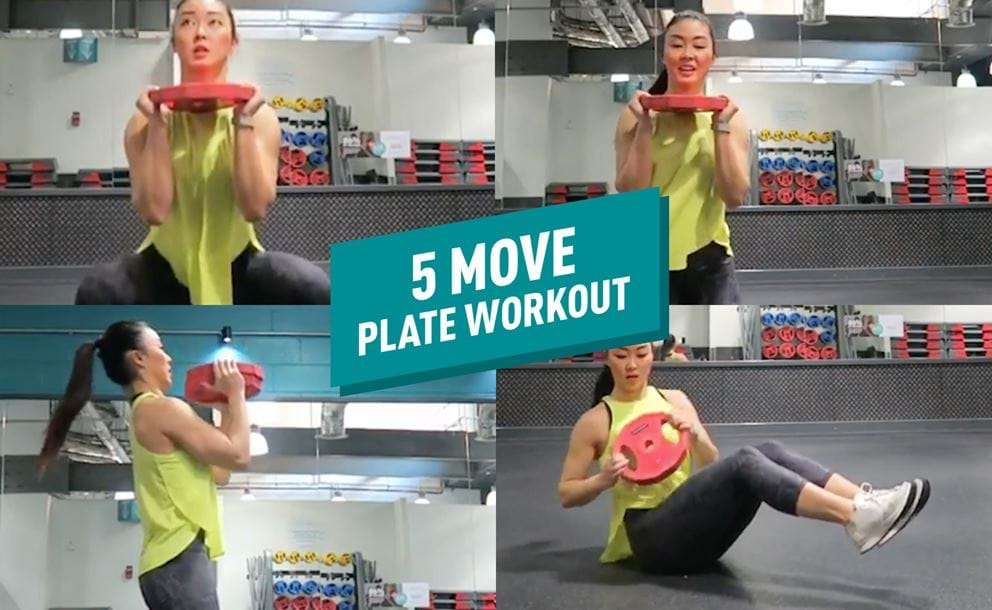 Target multiple areas of the body with this full body workout using just two weighted plates.
Grab 2 plates of the same weight and let's get into the workout.
PureGym Insider Kay recommends starting with two 5kg plates for beginners. If this weight is too easy, then look to increase the weight but make sure the weight doesn't compromise your form.
This is a great workout if you're short on time as it avoids having to set up equipment. It's also great if you're looking for a full body workout that is weight-bearing but endurance focused too.

Kay, PureGym Insider @kaypuregym
THE WORKOUT

Squat
Targets: Quads and hamstrings
Tip: Try to keep your back straight and keep your core tight throughout the whole movement. 
Kneel to squat
Targets: Quads
Tip: Try to stay low to really work those quads 
Overhead press
Tip: Avoid overextending your back and focus on maintaining a straight back.
Targets: Shoulders
Around the World
Tip: Keep your core engaged and control the movement.
Targets: Core
Russian Twists
Tip: Engage the core and keep a straight back. If this move is too challenging you can always keep your heels on the floor.
Targets: Core
Set a timer to 20 seconds work 10 seconds rest. Work through each move for 20 seconds, rest 10 seconds. Complete a total of 10 rounds.
Follow @kaypuregym for fitness motivation and healthy lifestyle tips. If you're unsure how to perform any of the moves, don't be afraid to ask help from a personal trainer in our gyms. They'd be more than happy to help you!
To learn more moves check out our exercises section.