Go Nuts for Your Protein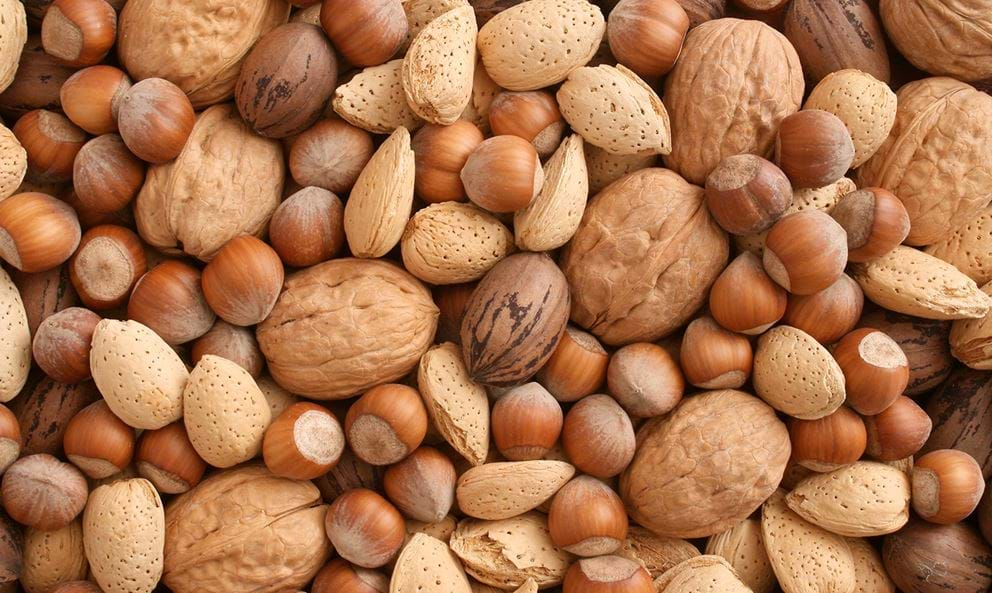 There's a whole world of protein-rich food out there beyond steaks, boiled eggs, and whey protein shakes. For the dedicated plant-eater, or just anyone who's interested in mixing things up and introducing some new high-protein snacks to their diet, nuts can be a revelation waiting to happen.
Here's a look at some different protein-rich nut types, starting with the nut varieties highest in protein content, along with some basic ideas for enjoying them in your diet.

Peanuts (dry roasted)
Protein content : 24.4g per 100g
Suggestions
Peanuts are easily one of the most iconic snack foods around. Traditionally found in aeroplanes and bars, other ways to enjoy this salty treat include in the form of peanut butter, as a central component to your favourite sandwiches.
You could also use them to create your own trail mix bars, or else enjoy them in the form of peanut sauce, particularly popular in Asian cuisines.

Pistachios (dry roasted)
Protein content: 21g per 100g
Suggestions
Pistachios, also known as "the ones where you have to pull the shell apart", have a distinct flavour and go great with ice cream and other desserts, both sweet and savoury. Crushed pistachios also work well as a coating for various roast meats, as a way of adding a bit of extra "crunch" as well as a unique flavour twist.

Almonds
Protein content: 21.2g per 100g
Suggestions
An oft-overlooked trick for the almond-eaters out there is to soak the nuts for about 8 hours in a bowl of water, then peel off their skins before eating. This isn't just a trick based on a cosmetic or taste preference, either. Soaked almonds are healthier, as the skin contains tannins which inhibit nutrient absorption.
Walnuts
Protein content: 15.2g per 100g
Suggestions
Walnuts crumble easily and can be ground up to make a great addition to grain-based dishes like rice, buckwheat and quinoa. They work exceptionally well as a way of adding an interesting variation to the flavour, as well as boosting the nutrient content of the dish.
Walnuts are also a popular salad addition, such as in the well-known Waldorf salad, and help to add a bit of extra crunch and texture to your leafy side dish of choice.

Cashews
Protein content: 15.3g per 100g
Suggestions
Cashew nuts may not get as much attention as they deserve, but they are rising in the world of vegan cuisine, where they're known to provide a rich, creamy texture for cheese and dairy substitutes. Whether it's homemade cashew milk, or vegan mac' and cheese, why not try out some of the more unusual cashew-based dishes and see whether you might be in for a pleasant surprise.

Hazelnuts
Protein content: 15g per 100g
Suggestions
Hazelnuts are one of the best nut varieties for roasting, and when prepared and spiced right, they can be a filling, savoury treat all by themselves. As a common Southern European delicacy, try roasted hazelnuts with an espresso and some tea cakes to get the full effect.
For more healthy snack ideas which are high in protein, check out our 'Getting protein the sweet way' blog.