Graham's Story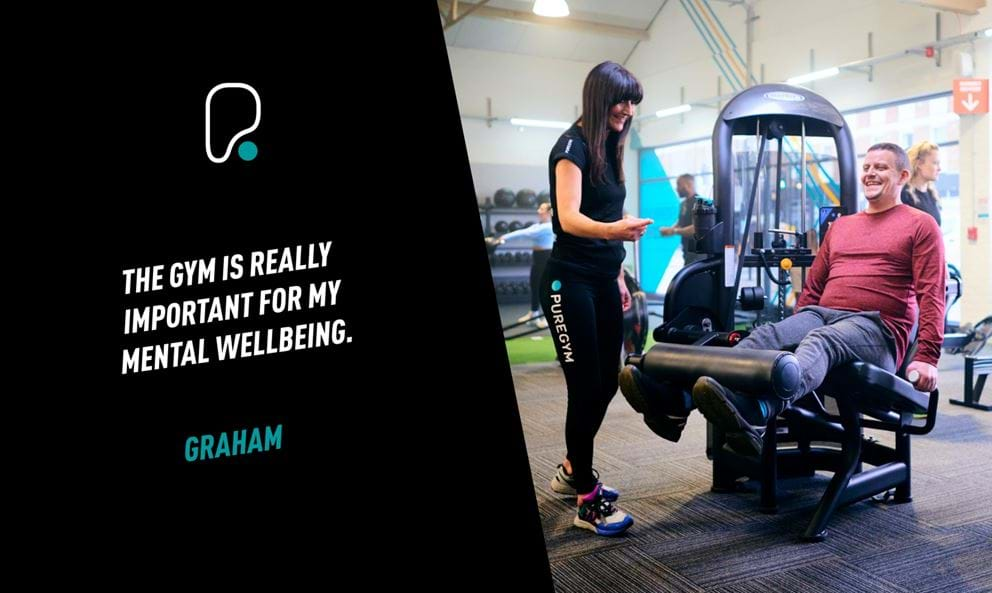 Hi I'm Graham. 
I have exercised throughout most of my life. However, there would always be a reason, or excuse, for me to quit after a year or so.  
At school I played football, rugby, tennis, athletics, cricket. As an adult I played rugby at a decent level and enjoyed tennis and squash recreationally. I also regularly attended the gym to do weight training. I would exercise for a year, take a year off.  
Until 2019 I always had a physically active job. 30,000 steps per day and lots of heavy lifting. Going to the gym is actually how I managed to bag my wife. We had mutual friends and started going to the gym together. Took a while but I managed to get a date out of her. 
I joined PureGym in May 2021. My reason was that in 2019 I swapped my physically active job for a sedentary job where I spent most of my time in the car. From March 2019 to March 2020 my weight went from 12.5 stone to 14.5 stone. I got Married in Feb 2020 and we had a baby due in August 2020.  
In April 2020 I was furloughed for nearly 6 months. My wife was still working, and I was sat at home on my own for 8 hours per day. I pretty much ate and drank my way through furlough. Bacon and sausage for breakfast, chicken burgers for lunch and steak for tea, with plenty of snacks in the middle. I would then finish my day off with cocktails and snacks. Living the dream or so I thought. By August when our son was born I was 16 stone plus, couldn't put my own socks on. My hips were hurting, my back was hurting. I was even getting gout. 
So when baby Sam was born I could barely change his nappy without being in pain and moaning. My wife, who had carried our son for 9 months, had just given birth and was listening to me moan about my health because I was overweight and eating way, way too much. The next few months were difficult for all of us.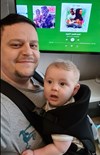 So when the restrictions were lifted in Spring 2021 I knew I had to do something about it before my wife left me or I couldn't be the dad I wanted to be. I joined PureGym and changed my diet. Between May 2021 and July 2021 I lost 10kg, over a stone. Regained my mobility, the gout has cleared up and I am back to my old self. Instead of getting told off by my wife for moaning about my health now she moans at me for being too boisterous with the boys. I am now a healthier 13ish stone. 
The first time I visited the gym I felt nervous, anxious, apprehensive! I have always had a gym buddy in the past and was usually half fit and healthy. This time I was overweight and flying solo. My fears were soon gone. My class instructor was friendly and welcoming as were my fellow gym goers. Once the class started I didn't really have time to think about anything else other than wiping the sweat from my brow. On my way out I felt good, had a spring in my step and thought "yeah...I can do this". I couldn't wait for my next visit. 

My gym confidence is now really high, I love going to my classes. Saying hello to the instructor and the other class regulars. I even enjoy helping the newbies get set up. I remember my first class and thinking "what equipment do I need" and "How does this all work?". 
I mostly do classes, Pump, Legs, Bums & Tums and Body Tone. I try to get three classes in per week if I can, sometimes work gets in the way but, I have the PLUS membership, which allows me to book 2 weeks in advance so I can work the classes around my work diary. One final thing with the PLUS membership is I can use all PureGyms across the country. 

The gym is really important for my mental wellbeing. My day starts at 5am when I get up with the baby. Between 5am - 8.30am I am making bottles, packing bags, doing packed lunches. 8.30am - 5pm is work either driving 100's of miles to meet customers or sat in front of a laptop for 9 hours doing admin. 5pm till bed is filled with school run, tea, bedtime and if I am lucky half an hour chatting to my wife before bed. Life is definitely a treadmill that never stops. If I didn't get the 1-hour break in the middle of the day to go to PureGym I would be a stressed-out wreck. On top of that, being fit and healthy feeds into good mental wellbeing for me. I was quite depressed when I was overweight and couldn't even put my socks on. 
To anyone considering joining the gym but feeling unsure, I'd say it is natural to feel nervous...new place, new people. Am I going to look stupid? Will I be able to keep up with everyone else? Am I wearing the right clothes? In my experience, none of this matters. PureGym is a welcoming place and everyone is just like me. Some people are further along, or not as far into their fitness journey but we are all there for the same reasons...to get fit, be healthy, have fun and get away from life's stresses for an hour or two. Your nervousness will gradually disappear and the gym will hopefully become the home from home that it has become for me. 
JOIN THE UK'S FAVOURITE GYM
Looking to improve your health and fitness? We have 300 gyms nationwide - find your nearest gym. 
Check out our Starting Out In The Gym Guides for plenty of tips and workout ideas tailored for beginners to help you get started on your fitness.