Massage your way to good health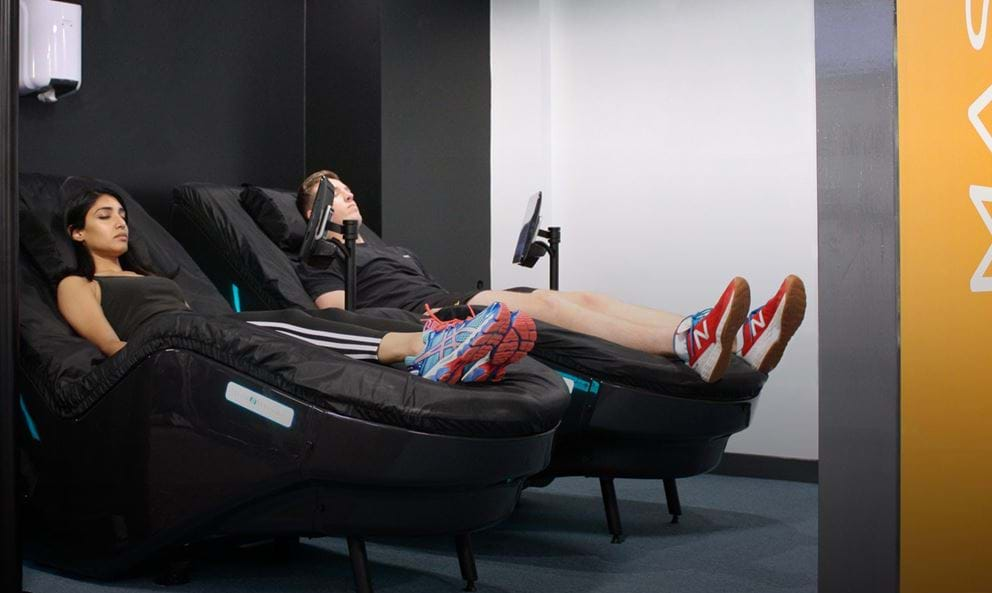 With approximately five million touch receptors in our skin it's no wonder that our bodies are so receptive to massage therapy. Needless to say, getting a massage feels great, but the health benefits are pretty impressive too. 
In a 2016 survey sponsored by the American Massage Therapy Association, 88% of those surveyed saw massage as being beneficial to their overall health and wellness.
That's why we've introduced state of the art hydro sports massage chairs at our selected PureGyms.
If you're curious about getting a massage, here's a breakdown of the top 8 reasons why your body will thank you for giving it a go.
Try our massage chairs for FREE*
1) Reduce stress
The soothing massage motions can help relieve many of the negative emotional and physical effects caused by stress, including tension headaches, according to a study into Massage Therapy as a workplace intervention for reduction of stress by Cady and Jones.
2) Reduce muscle soreness
Muscle stiffness, known as delayed onset muscle soreness (DOMS) often kicks in one to two days after you exercise and helps your body adapt to cope better the next time you work out. Multiple studies suggest massage can help suppress inflammation and enhance cell recovery, which, according to a study in the Journal of Athletic Training, can reduce DOMS by 30%. 
3) Lower blood pressure
High blood pressure can cause heart disease, strokes, kidney disease and some forms of dementia. So it's good to know that massage therapy can significantly decrease both diastolic and systolic blood pressure and heart rate, according to a 2002 study at the Wirral Metropolitan College Department of Medicine in Liverpool.
4) Improve flexibility
A 1984 study into the effects of massage to the hamstring muscle group on range of motion, found that a 9 to 12 minute massage post-exercise helped increase the range of motion, reduce muscle tension and prevent injury.
5) Increased circulation
The journal Medical Science Monitor reported that massage boosts blood flow which can significantly increase the circulation in your arms and legs, which helps you recover quicker and remove waste products, such as lactic acid, from your muscles.
6) More energy
Better circulation increases the amount of oxygen getting to your body's individual cells providing them with optimum levels, which can give you more energy, help you recover quicker, and lower stress.
7) Improve mood 
Massage helps your body release endorphins, which make you feel good. A 2004 study reported in the Journal of Psychosomatic Research found that the immediate effects of massage therapy include reduced anxiety, depressed mood and anger, and the long-term effects include reduced depression and increased serotonin levels, which help regulate mood, appetite and memory.
8) Sleep better
The serotonin released during a massage can also help improve your quality of sleep. Numerous studies have shown that everyone from children to adults can reap the benefits of the relaxed state your body enjoys following a massage.  
Fancy a free massage at PureGym?
If your PureGym has a massage chair, you can enjoy a 10-minute FREE trial using your PIN to activate the chair. 
Known as the next best thing to a physical massage, these aren't standard mechanical chairs, but state of the art massage chairs that use heated water to apply pressure at a level you chose, where you want it.
If you love your FREE massage and want to enjoy it daily, you can upgrade to an Extra membership or add this product as a Bolt On to enjoy 10 minutes a day.
As an Extra member you'll also be able to book classes 14 days early, bring a buddy 4 times a month, access gyms on the same rate as your home gym for FREE, and freeze your membership for up to 3 months at no extra cost.
To upgrade and get instant unlimited massages, simply go to the 'Manage Your Membership' option in the Members' Area. You'll then be able to use your PIN to activate the massage chair whenever you want - before a work out, after a work out, some people even come in just for a massage!
 For more information about hydromassage sports chairs, click here.
'I had a standard membership before & upgraded after the free trial. I use the chairs before & after workouts, it's my little bit of luxury.' - Tom Canon, member at PureGym Leeds North
'I was on the multi club access before, and upgraded after that to use the chairs. The chairs are very good, its relaxing and it helps relieve stress.' - Michelle Soden, member at PureGym Leeds North
'Always been on the extra membership. It's good for after workouts, really good for my back and shoulders.' - Kelvin Codjoe, member at PureGym Leeds North
'It is great to get a water massage after your training. Your muscles seem to recover quicker.'-  Julien Carcano, member at London Hammersmith Palais
*Free 10-minute trial of our massage chairs can only be redeemed once.