Mellodie's Story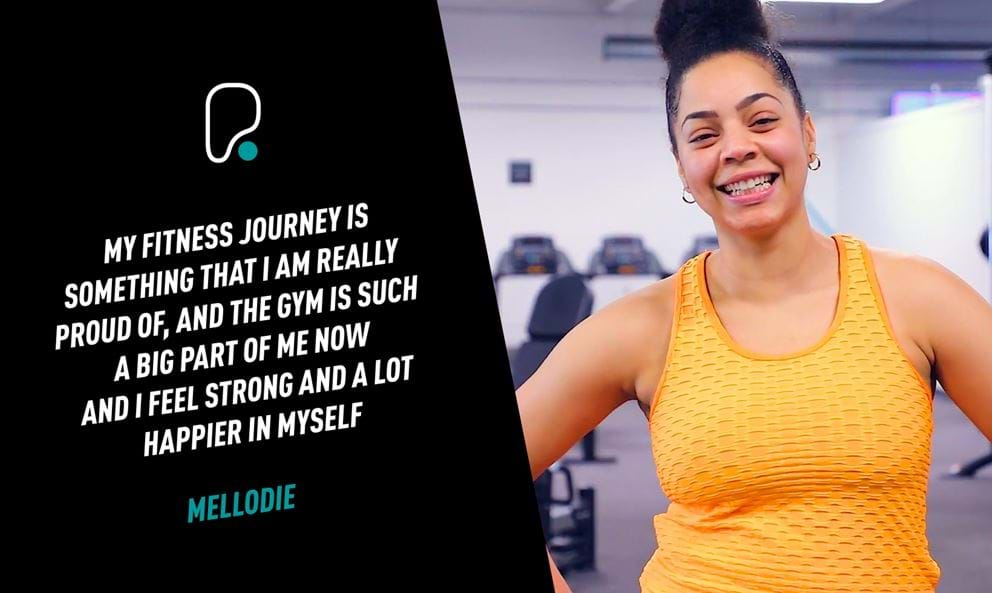 Mellodie gained weight while she was struggling with her mental health during the pandemic, which meant she no longer fit into the wedding dress she'd picked. She joined PureGym and started taking classes, before working with a PT to regain her fitness and lose weight for the wedding. Now, she credits the gym and gym community for helping to improve her confidence and mental health. Read more about Mellodie's story below.
Hi, I'm Mellodie! I work on a respiratory ward, and two years ago, I took a day off and came back to it being a COVID ward.
My mental well-being declined in 2020 as result of working at the hospital and the pandemic. I was petrified when we started getting Covid positive patients. I really struggled and went into panic mode. I couldn't get myself out of bed and was off sick for 6 months.
Throughout this time, we had to postpone our August 2020 wedding twice and then cancelled and rebooked for November 2021.
Physically I felt worse than I've ever felt. I put on weight during that time, I was out of shape and my mental health had taken a rapid decline. I kind of lost myself.
Fast forward to September 2021 I decided to try my wedding dress on again ahead of our 3rd attempt to get married. I'd found the dress back in 2019 and had fallen in love with it but bought it too big and knew I needed the seamstress to finish altering it. But when it came to try it on again, my mum couldn't fasten it.
I got really upset, but I still didn't feel like I had the motivation to sort myself out. I was stuck in a rut. I knew deep down I needed the gym but the thought of going was scary, I had zero confidence and didn't want to be around other people in the gym that were fit while I felt like a couch potato.
I finally plucked up the courage to join PureGym to try and make a change before the wedding. I started with a pump class and I was really nervous, but I knew how great I would feel after the session.
I really enjoyed it! I wasn't embarrassed when I needed to stop or when there was something I couldn't quite get right. I realised that nobody cared and that they were all too busy sweating to be concerned about what I was doing. The instructor was friendly and really motivated everyone and my anxiety turned into excitement, and I drove home feeling amazing.
In the run up to the wedding, I also started working with a lovely PT called Hanae, who was really helpful and just turned my fitness journey around. She made me feel so at ease and now, I truly feel part of the gym community, it's so nice.
I can see my body shape has changed as well already, and I felt amazing on my wedding day - like a princess!

My fitness journey is something that I am really proud of, and the gym is such a big part of me now and I feel strong and a lot happier in myself. It helps me in so many ways not just becoming a fitter healthier version of myself, but it has helped my confidence and mental health too.
Just leaving the gym after a workout has the power to keep me feeling great and positive for the rest of the day. I am a wife and I have 4 children which I love but it can be challenging and going to the gym is something for me it's my time to myself, to switch off from everything and everyone and to let go of any stresses and anxieties.

I'd just say, anyone who is even thinking about joining the gym, just do it. It's the best thing I did and don't let your nerves spoil it for you. I played with it in my mind for quite a while, and now I just think why didn't I join sooner. I love my gym and you do feel part of a little family especially when taking part in the classes. Just do it you won't regret it.
Ready to start your fitness journey?
Starting your fitness journey can be hard, especially if you're struggling with your mental health. Working with a Personal Trainer like Mellodie can help to get you started and keep you motivated. Group classes are also a fun way to keep fit, and are beginner friendly too! Our gyms have over 50+ classes each week which are included in your membership. Find your nearest gym and get started today.