Member story: 'I was sick of being the "fat person" in group pictures. I wanted to feel confident again'. Samantha shares her weight loss story.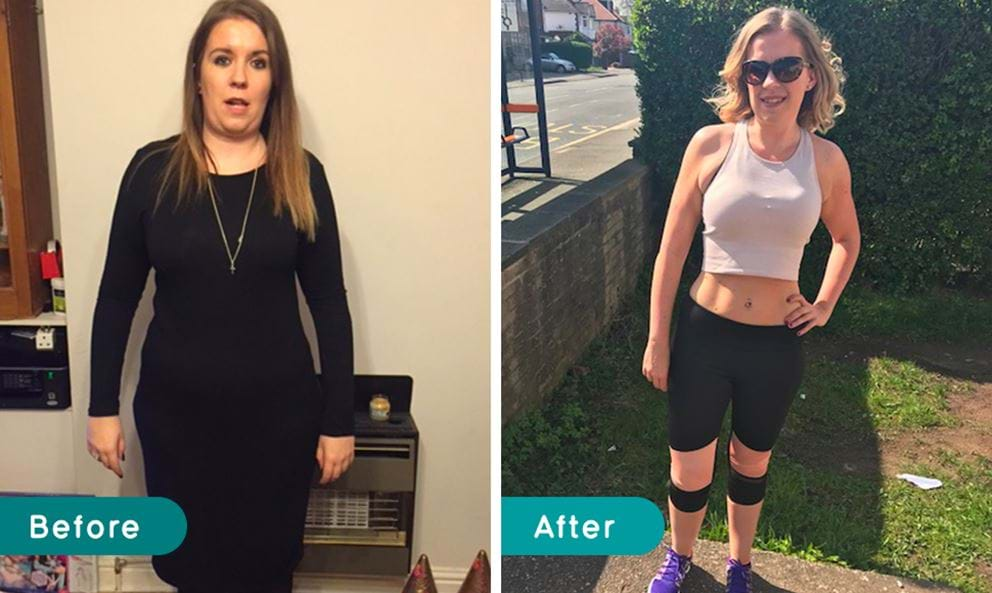 "I've lost 3.5 stone, regained my passion in fitness, and I'm now taking a course to become a PT".
Hi. I'm Samantha Harding and I'm 31 years old. In the last 15 months I have lost 3.5 stone and since I joined PureGym just 6 months ago, I have:
reached my goal weight

never felt better about myself

regained my passion for fitness

recently signed up to become a qualified PT
I started exercising more because I got to a stage where I felt unhappy when I looked at my reflection in the mirror.
I was sick of being the "fat person" in group pictures. I wanted to stop feeling miserable and feel confident again.
I initially lost around 2 stone between January 2016 and September 2016 but I struggled to lose the final stone and a half to reach my goal weight. I lost motivation and went back to my old eating habits where I ate whatever I wanted for a couple of weeks. At this point I was disappointed in myself and wanted to be fit so I knew the best thing for me was to join a gym. A colleague mentioned PureGym to me and I was attracted to their affordable membership so I quickly signed up to become a member.
What my fitness routine and diet used to look like
I used to bike at level 1-3 resistance for 20-30 minutes and I'd add 10 sit ups at the end of my session. I did this routine 3 times a week and thought I had worked hard enough to eat whatever I wanted. I drank tea with two lumps of sugar and a couple of fizzy drinks per day. I also ate a lot of takeaways, fast food, biscuits, crisps and chocolate. Looking back, my diet was awful.
What my fitness routine and diet looks like now
Since January 2017, I've been eating a lot healthier. I try to limit the amounts of unhealthy foods like chocolate, biscuits, fizzy drinks etc which I used to have on a regular basis. I now snack on healthier foods like nuts, rice cakes and protein bars, and allow myself one day a week as a "cheat day" so I can still enjoy having treats and eating out.

Since eating mainly whole foods, I've lost just over a stone in weight! I've noticed I have a flatter stomach and less fat on my back after losing weight.
I had PT sessions with Craig Hayden once a week. He has really helped me achieve my goals. I wouldn't be where I was without his help! I also train hard by myself. I mainly do high intensity interval training, and I've recently started running outside and recently I took part in my first 5km. I also enjoy going to PureGym's exercise classes on a regular basis like their Legs, Bums & Tums class, Fat Burn, and Pure Cycle. I'm much more active now than when I first started!
Having been the person who cycled on level 1-3 and didn't know what to do in the gym and now be in a place where I thoroughly enjoy working out in the gym and attending classes is what I'm most proud of. I have a great passion for fitness and have decided to change my career and become a PT myself!
My 3 key tips for someone trying to lose weight:
1) Start by making small changes you can stick to. Over time, this will result to big and lasting results.
2) Have a positive mindset. If you believe in yourself, you can go far and it will be a lot easier to reach your fitness goals.
3) Take progress photos along the way.  I find it can be really motivating and rewarding to look back on my photos to help me realise how far I've come since I started.

What motivates me
Seeing the improvements I've made to my health and my body composition is really motivating. My PT Craig, has also kept me highly motivated. My PT sessions with him are always challenging (in a good way) and different. If he teaches me a new training method I don't just follow what he says, I go home and do more research to learn more about it. I now have a hunger to educate myself on fitness!
My top tips to get you active
If you are struggling with your fitness goals, try to keep a positive mindset. You should tell yourself that you can do it, otherwise you will fail. Don't set unrealistic fitness goals that are out of reach. Set mini targets and challenge yourself. Imagine at week 1 if you could only do 5 sit ups and then at week 12 you can do 40?
Remember little changes over time can lead to big changes and amazing results!
I also recommend getting PT sessions if you can. If not, book yourself onto the fitness classes at PureGym as you can learn a lot in their classes and even try the workout afterwards by yourself. It doesn't matter if you go at half the speed as anyone else. Work out for you and be your own competition.

What's next for me?
I'm so excited now about life now and what the future holds. I feel so proud of the achievements that I have achieved over the past 15 months (especially in the last 3 months since joining PureGym). I have fallen completely in love with fitness all over again and I feel as good as I did when I was 21. I really want other people to feel good about themselves and help them achieve their dreams.
One of my biggest accomplishments is knowing that I've inspired other people to lose weight and to join the gym or start some form of exercise.
I have messages from people I don't even know on Instagram saying "because of you I've lost 10lb". I have had friends join the gym because they want to be like me. To know that I have been others motivation is priceless.  I've signed up to start a brand new chapter in my life - my PT course!  It will be hard work and tough financially but I know it will be worth every minute studying and every penny financially.  
The gym has seriously changed my life just in the few months I've been a member at PureGym. Everyone at Pure Gym Snowhill is so lovely and nothing is ever too much for them so I have been really lucky! If you're reading this and live or work near PureGym you should join - it's the best!
Well done Samantha! Your positive lifestyle change is really inspiring. Thanks for sharing your incredible weight loss journey with us, and we wish you all the best in pursuing your new career.
Follow our Instagram for more amazing member transformation pictures to get you inspired to go to the gym. You can follow Samantha's Instagram @sammianni
If you're interested in sharing your story with us, please email: [email protected]