Satay Chicken Noodle Salad Recipe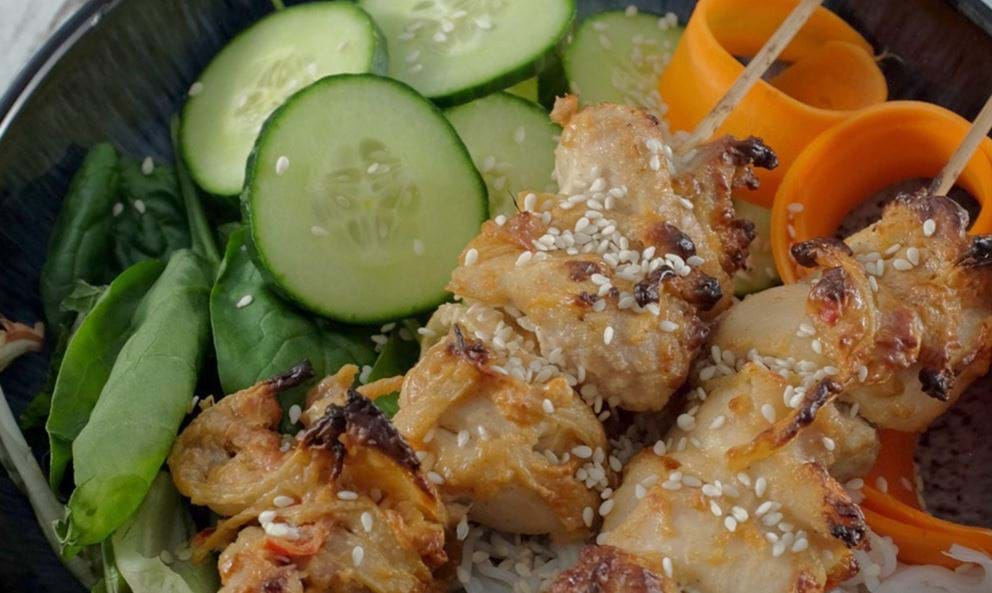 If you love satay, you're going to love this dish we've paired with vermicelli noodles! High in protein and packed with flavour, this easy recipe is a hit!
Note: The recipe includes peanut butter so it is not suitable for anyone with nut allergies.
Ingredients
Serves 2
Handful of salad
½ carrot
Fresh mint
Half a cucumber
150g Rice Noodles
1/2 onion, sliced
1 garlic clove, sliced
2-inch piece of fresh ginger, grated
1 red chilli, sliced
30g peanut butter
30g natural yogurt
2 tbsp soy sauce
4 chicken thighs, chopped into chunks
½ Lime
Optional: finely chopped salted peanuts, fresh coriander leaves, sliced spring onions
Method:
Preheat your oven to 200 degrees.
Start by making your chicken satay marinade. Combine – peanut butter, yoghurt, soy sauce, juice of half a lime, ginger, chilli, garlic and onion into a bowl and mix well.
Place chopped up chicken thigh into the bowl and cover with the marinade.
Leave to marinade for at least 1 hour, but we recommend leaving it overnight to really bring out the flavour.
When ready place chicken onto a skewer and place into the oven for 18 - 20 minutes turning occasionally.
Heat rice noodles in a bowl in the microwave for 30 - 45 seconds and mix with salad, grated carrot and sliced up cucumber.
Top with chicken and garnishes of your choice, a few chopped up peanuts, coriander, spring onions and fresh chilli work a treat!
For more easy to make salad recipes, check out our delicious salad ideas.