Seven Super-Healthy Snacks to Eat Between Workouts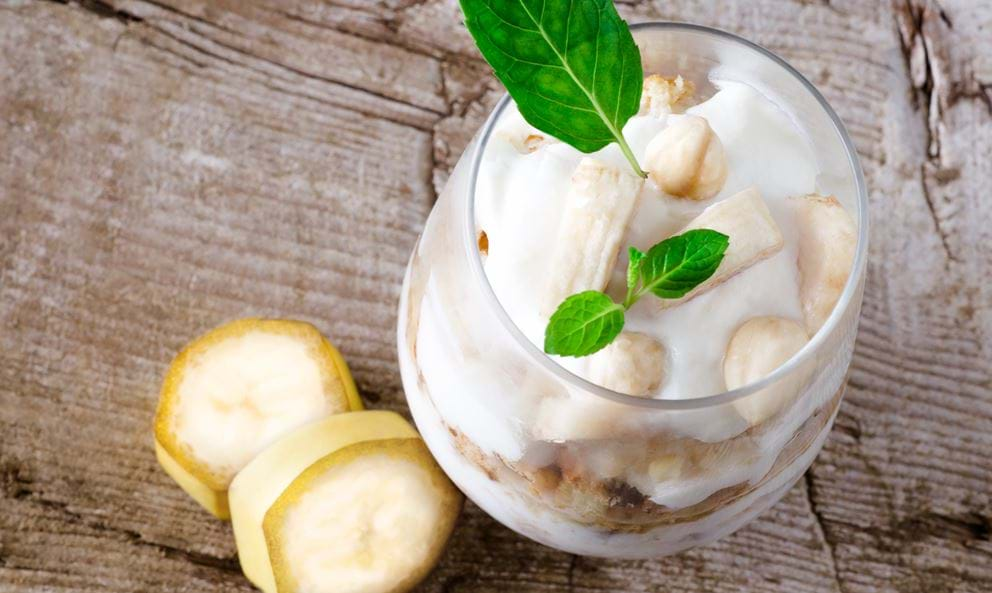 So, you've done the hard bit and worked-up a sweat at the gym. You're feeling the burn and you're ready to take on the day, but exercising is just one element of maintaining a healthy lifestyle. The food we put into our body also plays a big part in keeping our health in-check – not to mention ensuring all that hard work isn't undone.
The good news is that snacking is totally fine, but making sure you're fuelling your body with the right sort of snacks between workouts is essential. To help give you a better idea of what you should be eating, we've compiled a nutritional breakdown of seven easy and super-healthy snacks to eat between workouts.
Grenade Carb Killa protein bar
Calories: 217

Total Fat: 8g

Saturated Fat: 4g

Carbs: 14g

Sugar: 2g

Protein: 23g
A low-sugar, high-protein bar like a Cookies and Cream Grenade Carb Killa is a great snack choice between workouts, with the protein acting to repair your muscles and keep you fuller for longer. Bonus –it tastes just like a chocolate bar!
Farge Yoghurt (per 100g)
Calories: 54

Fat: 0g

Saturated Fat: 0g

Carbs: 3g

Sugar: 3g

Protein:10.3g
A natural Greek yoghurt like Farge is a great snack because of its low sugar and high protein content. Mix with fresh berries, a teaspoon of honey or protein powder for a nutritious and tasty snack at home or work.
Hard boiled eggs (2)
Calories: 156

Total Fat: 11g

Saturated Fat: 3g

Carbs: 1g

Sugar: 1g

Protein: 13g
Easy to make and eat at home, or put in your lunchbox as a mid-afternoon snack. If you're looking for a boost then a couple of boiled eggs are a great snack choice thanks to their high protein levels and healthy fats
Banana (1 Medium)
Calories: 105

Total Fat: 0g

Saturated Fat: 0g

Carbs: 27g

Sugar: 14g

Protein: 1g
Bananas are low in calories but high in potassium and carbohydrates, helping you to replenish your energy post-workout. Add a small amount of a nut butter of your choice for more protein and healthy fats.
Edamame bean snack pot (Co-op, 90g)
Calories: 114

Fat: 6.1

Saturated Fat: 1g

Carbs: 1.3g

Sugars: 0g

Protein: 13g
Edamame beans are full of natural, plant-based protein, high in healthy fats and low in sugar. An edamame bean pot like this is a great on-the-go snack between workouts.
Wholemeal bread (1 Slice of Hovis Medium)
Calories: 88

Total Fats: 0.7g

Saturated Fat: 0.2g

Carbs: 15.1g

Sugar: 1.6g

Protein: 4g
Wholemeal bread is a great source of fibre and complex carbohydrates needed to refuel your energy supplies and keep you going until your next workout.
Cottage Cheese (Sainsbury's Fat Free, ½ pot)
Calories: 111

Fat: 0.5g

Saturated Fat: 0.2g

Carbs: 11.1g

Sugar: 11.1g

Protein: 16.1g
Full of protein, cottage cheese is a great healthy snack. Sprinkle with chili flakes or pepper, or use as a dip for healthy vegetables like cucumber or carrot sticks.
Having simple snacks like these on hand makes choosing the right foods much easier and ensures you're less likely to reach for the junk food between workouts! Above all, just remember to focus on listening to what your body needs, whether that's repairing sore muscles with protein or refuelling your depleted energy with complex carbohydrates and natural sugars.