The Best Barbell Exercises For Women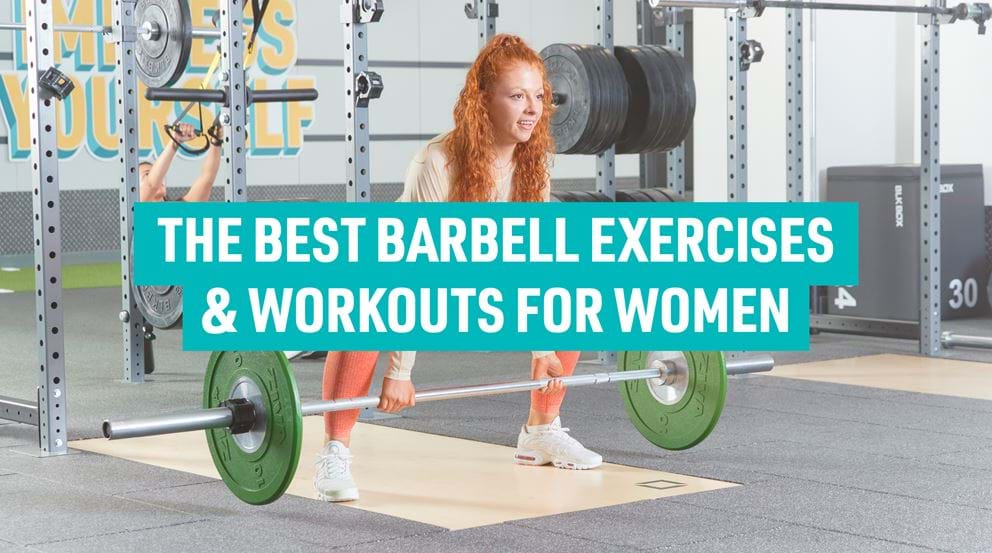 Benefits For Women | Bar Weights | Barbell Workout For Women
Page last updated: 11th April 2023
Used in weight training, bodybuilding and weightlifting, the barbell is a long bar with either fixed or removable plates at either end. While it can seem like an intimidating piece of gym kit at first, getting to grips with the barbell as part of your strength training routine is one of the best ways to stay strong and healthy. It has a range of different uses and can be used to train both your upper body, lower body, back and core. 
If you're a woman considering getting to grips with the barbell, then this guide from Jamie Thorpe, one of our PureGym Leeds based Personal Trainers, will run you through some of the excellent benefits of giving it a try, as well as the different styles of bar you can try and exercises you can work into your plans. 
What are the benefits of barbell exercises for women? 
Many women feel concerned about spending too much time on heavy weight training, for fear of changing their physique in the 'wrong' way. However, it's worth noting that truly bulking up is incredibly challenging and takes a lot of dedication; it's unlikely to happen if you're not specifically making that your goal. 
However, weight training is a great way to improve bone density (particularly helpful for women - as we get older our bones get weaker, particularly post-menopause), build strength and muscle (which can create a lean, toned appearance), control weight, and boost energy levels. We cover the benefits of weight training for women in more detail in this guide. 
But what about the barbell specifically - why is it such a useful piece of kit? 

The barbell is a very simple tool

It's easy to learn the basic lifts of a barbell quickly. With proper coaching, anyone without any pre-existing injuries can learn most barbell exercises in under an hour. Once you have the exercises with correct form under your belt, you can conduct a full workout with just the one piece of kit.

The weight is fixed and stable

Using a barbell for exercises is a lot more stable than using other free weights such as dumbbells. This is because it's much easier to move one barbell with two hands than it is two separate weights, even if the total weight itself is the same. This stability means many people feel more confident performing exercises with a barbell once they get past any initial nerves. It also makes it easier to move more load with a barbell, which will lead to bigger strength and muscle gains.

It's worth noting that any free weights should always be started on very light weights so you can master the movement before adding any kind of significant load. This will provide you with a great gateway to building out your resistance training programme.

Unlimited progression is possible!

One of the biggest benefits to training with a barbell is that you can always add more weight to the bar; it's as easy as attaching more plates! Our gyms have bars weighing as little as 2kg, which means every lifter can start at a weight that works for them, and with Olympic weightlifting bars able to hold up to 680kg, progression with a barbell is virtually unlimited.
How much does a women's barbell weigh? 
Each gym is slightly different, but at PureGym we offer a range of different bars each weighing a different amount, giving you more flexibility for your training. There are no limitations on the size or weight of barbell women should be using - you can base your decisions solely on your abilities, strengths, and requirements.

Male Olympic Weightlifting Bar – 20kg

The standard Olympic weightlifting bar is just over 7ft and weighs in at 20kg. This is the barbell most commonly racked up in the squat rack and bench press.

Female Olympic Weightlifting Bar – 15kg

The female Olympic barbell is slightly smaller (6.6ft) and thinner than the male bar, and weights 15kg. It can be a great option for those who aren't ready to lift loads above 20kg, but also for anyone who finds a smaller bar easy to grip.

EZ bar – 7.5kg

The EZ bar is W shaped which allows the bar to be gripped from multiple angles, and it's a great alternative for anyone with wrist issues. The bar can be used for many exercises but is most commonly used for arm movements. 

Pre-loaded barbells – 10kg – 45kg

Pre-loaded barbells start at 10kg and increase in 2.5kg increments until 20kg, where they increase in 5kg amounts. These bars are a great way to build confidence in your barbell skills and the strength to work up to the Olympic barbells, or even as an alternative to barbells for exercises where a squat rack isn't needed.

Studio bar – 2kg

The bars in PureGym studios weigh just 2kg and have special sized plates starting from 1.25kg up to 5kg. These bars are a great way to practice movements and get the form perfected, as well as build your strength. We use these bars in many of our classes, but they can be used in your own workouts too.
Barbell workout for women
There are so many exercises that can be carried out with a barbell, but for this workout Jamie combines both lower and upper body exercises to create a full body workout.
There are two ways you can do this workout:
Strength based: Perform 3 sets of 8-12 reps for each exercise, choosing a weight where you are close to failure within those reps
Circuit based: Perform each exercise for 45 seconds followed by a 15 second rest before moving on to the next exercise, for 4-5 rounds. Choose a weight that allows you to work fast with correct form for 45 seconds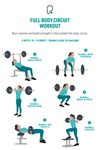 Discover more exercise inspiration on our workouts for women section, including this guide to some of the best arm exercises for women and our easy to follow leg day workout for women. You can also download the free PureGym app, where you can create a customised training plan for your weight loss goal or get involved with our on-demand classes and workouts. Also, consider booking a session with a dedicated Personal Trainer at PureGym- they're able to offer a wealth of advice for both fitness and nutrition.