The Ultimate Summer Festival Survival Guide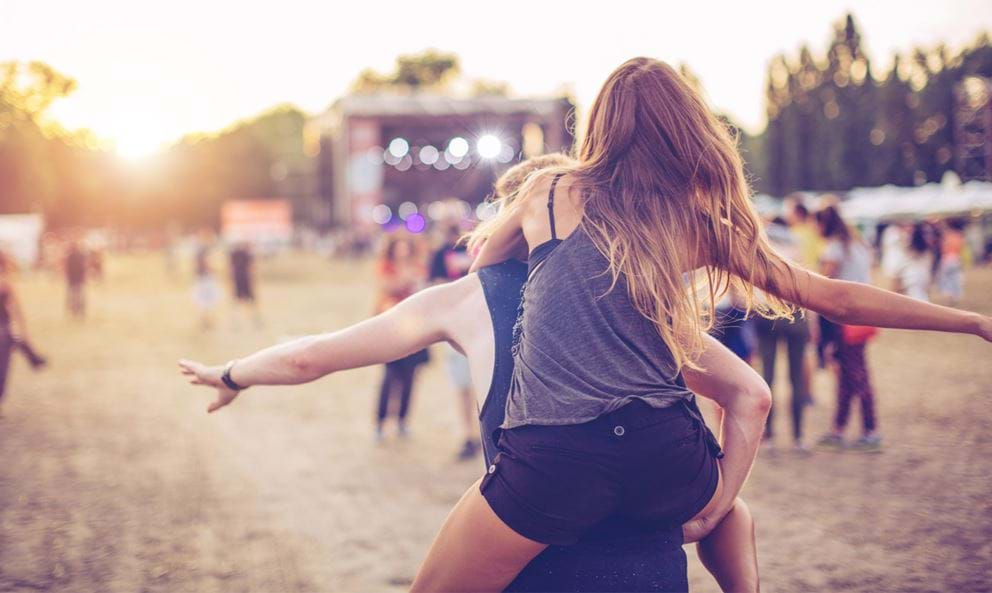 Festival season is about to kick off which means thousands of people across the UK are gearing up for a summer of great tunes, unforgettable experiences, and, let's face it, rain! With the likes of Chase & Status, Shawn Mendes and Clean Bandit preparing to take to the stage it's looking like a summer to remember.
WIN TWO FESTIVAL TICKETS AND A BRAND-NEW WARDROBE
No matter where you're heading this summer, have a brilliant time and be sure to look after yourself by packing the following festival essentials.

Sunglasses: you never know with the British summer, but let's assume it's going to be sunny! Ultraviolet (UV) rays can cause damage to the cornea which could lead to cataracts, so if the sun has got its hat on, make sure you put your glasses on.
Sun cream: Excess sun exposure can cause premature ageing of the skin, liver spots, and, increase the risk of the most serious type of skin cancer, melanoma. That's why the NHS recommends using at least factor 30 sunscreen, which you should apply to all exposed skin and reapply as per the instructions on the bottle. 

Hat: a wide-brimmed hat will protect your face, neck, ears from UV rays, plus help keep you cool. If your hair is thin, a hat is a must-have to avoid sunburn on your scalp. 
Hand sanitiser: a recent study found that festival wristbands can become a breeding ground for bacteria. Alcohol hand rub is an effective way of reducing bacteria on your hands, plus most sanitisers contain skin softeners to moisturise your hands at the same time.
Toothbrush: with travel-size brushes and toothpaste available, there's no excuse not to keep your pearly whites clean whilst camping. Not only will it avoid the build-up of plaque, which can cause tooth decay and gum disease, the fresh, minty breath will make you instantly kissable!
Painkillers: whether it's due to lack of sleep, excess head banging, or over-indulging on alcoholic refreshments, painkillers can be a life saver if you want to ensure that the morning after doesn't turn into a wipe out. Consult with a doctor and always read the directions before taking any form of painkillers.
Poncho: if there's one thing you can predict about the British weather it's that it's unpredictable, so a poncho is a festival must-have as it takes up hardly any room in your bag but will be worth its weight in gold once the heavens open.
Lip balm: singing and dancing in the summer sun can be a recipe for dehydration. See below for our hydration tips, but we also recommend carrying lip balm to keep your lips moist and chap-free. Plus, you can even get lip balm with SPF to protect your lips from UV rays.
Plasters: you're going to be standing, dancing and walking a lot, so the first thing to remember is to wear comfortable shoes. No matter how comfy they are though, blisters and festivals go together like drum and bass, so be sure to pack a range of plasters to help keep you on your feet.
Torch: Once the sun sets on the main stage, finding your way back to your tent in the dark can be tricky - let alone nipping to the loo in the middle of the night! These days, most phones come with a torch app but that will soon drain your battery, so we recommend going old school and buying a small torch.

Ear plugs: festival camping is a fantastic, communal experience but the only issue is not everyone has the same idea of when to call it a night. So if you want to go to sleep while everyone around you is still in party mode, noise-cancelling earplugs will be your best friend!
Wet wipes: when you're at a festival, there's no guarantee where your next shower may come from. So having a handy pack of wet wipes in your bag is the perfect way to give yourself a quick wipe-down that will leave you feeling refreshed! 
Deodorant: Once you've finished your wet wipe wash, re-apply some of your travel-size deodorant and you'll feel ready to face the world - or the main stage - again!
Water bottle: being active in the sunshine for extended periods can quickly lead to dehydration, which can cause tiredness, headaches, constipation and worse. So don't forget to drink plenty of water and re-fill your water bottle at every opportunity. Regular stretches will also help keep your muscles nice and loose, so you're ready to start jumping when your favourite song begins.
WIN TWO FESTIVAL TICKETS AND A BRAND NEW WARDROBE
Be in the chance of winning 2 weekend tickets to Sundown Festival in Norwich (31st August – 2nd September), plus a brand-new wardrobe from either BOOHOO or BOOHOO Man worth £100 a month for a whole year!*
Enter into the draw by referring a friend to PureGym before the 31st July. To refer a friend, get your referral code from the Members Area of our site. For more details click here.
*T&Cs apply.