Vegetarian Shepherd's Pie with sweet potato mash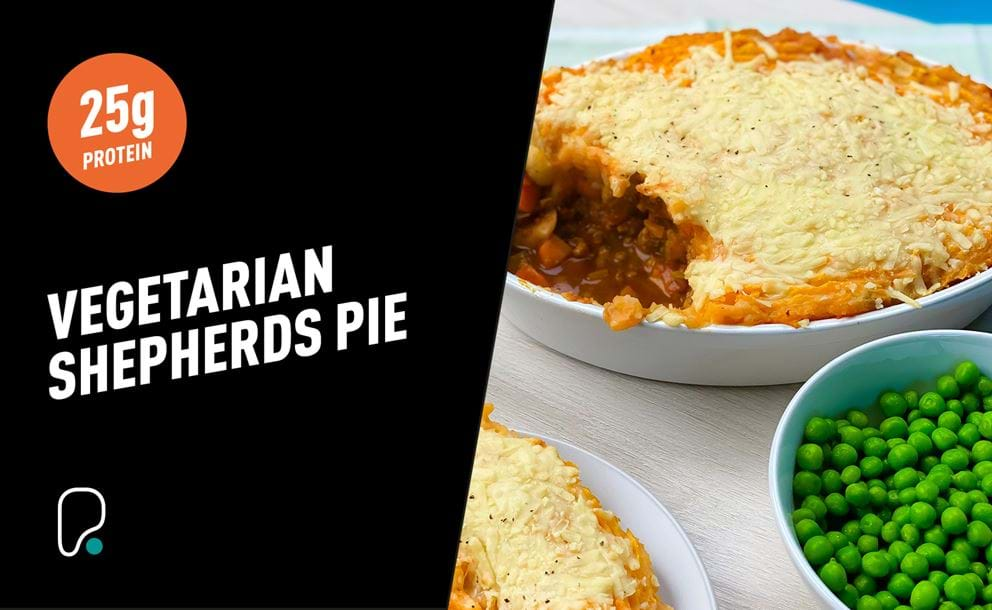 This tasty vegetarian shepherd's pie is packed full of protein, fibre and vitamins making the perfect healthy dinner recipe or post workout meal. This recipe is crammed with goodness and we swap out traditional mash topping for fluffy sweet potato mash.
This recipe works out at 25g of protein per portion, but if you want even more of a plant-based protein punch, why not add lentils too!
This veggie shepherds pie makes 4 servings, and it tastes just as good reheated as it does fresh out of the oven, so it's great for meal prep. Simply pop leftovers in individual tupperware containers and you've got yourself a healthy lunch on-the-go or a quick dinner when you can't be bothered to cook.
Ingredients (serves 4):
500g Sweet potato, peeled and cubed
500g Maris piper potato, peeled and cubed
20g reduced-fat butter
2 tbsp semi-skimmed milk
200g Quorn mince
400g tin of chopped tomatoes
100g light cheddar cheese, grated
200g peas
2 carrots, peeled and diced
1 onion, diced
1 stick of celery, diced
100g mushrooms sliced
1 leek, sliced
2 garlic cloves, crushed
1 tsp hendersons relish sauce
1 tbsp tomato puree
1 tbsp mixed herbs
1 vegetable stock cube
Low-calorie oil spray
Salt and pepper
Method:
Preheat the oven to 200c.
Boil a pan of water and add the chopped sweet potato and potato to the pan, and then leave to simmer for 15 minutes until soft. You should be able to pierce a fork or knife through the centre.
Drain the potatoes from the water and mash in a bowl with milk and butter and then season to taste with salt and pepper.
Next, heat a non-stick pan with low-calorie oil spray and then sauté the chopped onions and garlic until soft.
Add carrots, celery, mushrooms, and leek with a splash of hendersons relish and cook until soft.
Then add the Quorn mince to the pan and fry for 2 minutes before adding 150ml of water, chopped tomatoes, stock cube and tomato paste to the pan too.
Stir and bring the sauce to a simmer, adding mixed herbs and season with salt and pepper to taste.
Divide the mixture into 4 individual dishes or in one large oven-proof dish and top evenly with the mashed potato mix, top with cheese and place in the oven for 15 - 20 minutes until crispy on the top.
Serve with cooked peas or your favourite greens.
Looking for more healthy vegetarian recipes? Give our cauliflower tacos with spicy cashew creama try or make our tasty veggie bean burgers when you're next craving fast food.