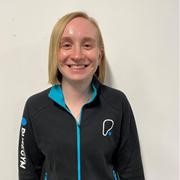 Claire Davidson
Hi, I'm Claire!
Growing up, PE at school wasn't my thing at all or any type of sport or fitness related thing for that matter. I started going to the gym during my second year of university as a way to get out of my uni house and I quickly fell in love with fitness and I haven't looked back.
The gym can be a scary, intimidating place when you're just getting started or have a new goal in mind when you are unsure how you can achieve this.
My aim as a personal trainer is to help you become comfortable and confident in the gym environment whilst helping you achieve your fitness goals and be the best possible version of yourself.
If Personal Training is something that interests you, feel free to come and find me on the gym floor or drop me an email. I look forward to helping you on your fitness journey!
Specialist Areas
Body confidence
Muscle tone and development
Nutritional guidance
Weight loss
Qualifications
Level 2 Fitness Instructor
Level 3 Personal Trainer