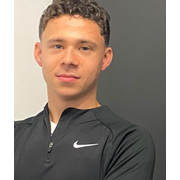 Joseph Bleetman
I help regular gym goers move more freely through mobility and strength training.
You will get a training programme bespoke to your needs if you work with me.
I hope to help people avoid moving with any form of physical or mental tension including injury, stress and immobility. Instead, you will get a programme to help you move more freely, get stronger and lift your spirits.
Fitness has been my therapy since I was 16. It brought confidence, discipline and a sense of purpose to my life.
You can either face life head on and make everything you do a way to better yourself and others or you can hide away, stagnate and stay where you are.
'Have no fear of perfection, you'll never reach it'.
Specialist Areas
Bespoke plan
Injury prevention and rehabilitation
Strength and conditioning
Qualifications
Certified Level 3 – Personal Trainer
Certified Level 2 - Gym Instructor
Intrinsic Biomechanics – body screening course
Gold Legacy Award – innovative stress relief using physical activity