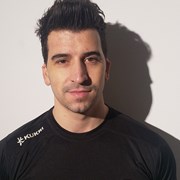 Keith Carroll
With commitment and dedication, together we can strive for progress to create a healthier, more confident version of yourself.
It won't be easy but with a positive attitude and determination, I am here to help you achieve your goals, whether that be getting fitter, stronger or losing weight and getting leaner.
Having worked as a Personal Trainer in the city for the last three years I have been successful in helping many people who face the same obstacles.
Long hours, meetings, lunches, drinks?! I completely get it! And that is why I can help you with a realistic and achievable goal. Finding that balance is the key to making your training and nutrition sustainable.
Don't wish for it, work for it!
Specialist Areas
Body fat reduction
Nutritional guidance
Sport specific training
Strength and conditioning
Weight loss
Qualifications
Premier Level 3 Certificate in Advanced Personal Training
Hatton ABC Boxing Academy Level 2 and 3