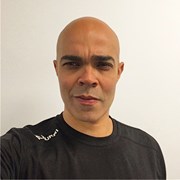 Marcelo Del Monaco
Do you have a challenge you would like to conquer? Join my team of clients, athletes and friends to add your success story to our success stories. From top ranked athletes (including a U.K. number one) to busy workers and even busier parents like me, we make it happen.
Let's work together to build the optimum training and nutrition strategies to fit around your own lifestyle and get you where you want to be.
Winner of various national and international awards including:
U.K. Fitness Awards - Outstanding Achievement 2016
U.K. Fitness Awards - Distinguished Performance 2014
Red Series Fitness Awards (Brazil) -Sports Supplements Research Collaboration of the Year 2016
Battle of London 2013 - Third Place in category (biggest Crossfit competition in Europe at the time)
Four times CrossFit Games Open competitor
Former military personnel
Soon to be part-time LEO -City of London Police
Currently Fitness Model sponsored by BPI Sports (UK) and Red Series Supplements (Brazil)
Feel free to contact me, so we can arrange an informal chat for you to present me with your challenge and we can discuss possible strategies, projects and goals. We can book your free trial session.
Looking forward to hearing from you
M
Specialist Areas
Body fat reduction
Functional specialist
Nutritional guidance
Sport specific training
Strength and conditioning
Qualifications
CrossFit L

1

CrossFit Judge

Pn1

(USA) Nutrition Coach

Level 3 Personal Trainer

Physique Coach - M10 complete