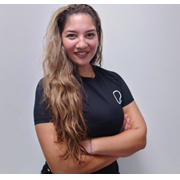 Penelope Neofytou
Hey Champions!
I'm Penelope Neofytou and I'm a personal trainer / martial arts fanatic! I train in Muay Thai (currently hold a level 4 khan), and my goal is to eventually become a Kru Master and to take part in professional fights, as well as promote self defence, confidence and self-love.
My aim is to inspire others, the way I got inspired to leave all my bad habits behind and focus on my self development and invest in a healthy lifestyle. We tend to find ways to invest in our social lives by making sure we have enough time and money to go out and get drinks and food and whatnot however we forget to invest in our own health and well being. That should be our number one priority!
I'm here to help you find your path and stay motivated and focused as well as achieve your goals one step at a time. 
It's time to channel your inner champion!
If you feel good you look good, and if you look good you feel good.
Specialist Areas
Body confidence
Muscle tone and development
Boxing
Qualifications
Certified Level 3 Personal Trainer
Certified Level 2 Fitness Instructor
Muay Boran Khan 4