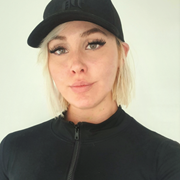 Sophie Tomlins
I've always been passionate about fitness. It wasn't until I started weightlifting 3 years ago I fell in love with getting stronger and completely changed my physique and mindset. 
My goal is to share my passion and help others take their fitness to the next level. Whether you're looking for fat loss, building muscle, getting stronger, or to just feel fitter, I'll be with you every step of the way. 
I'll help you maximise your training and develop healthier habits to achieve long lasting results. You'll have my full support and guidance to understand how to train and eat towards your goals without sacrificing the things you love and make a healthier lifestyle part of your daily routine. 
If this appeals to you, please get in touch and we can take your first step to a healthier you!
Specialist Areas
Body confidence
Body fat reduction
Muscle tone and development
Nutritional guidance
Qualifications
Level 2 Fitness Instructor
Level 3 Personal Trainer