Celebrity Fitness: Who's Inspiring the World's Workouts?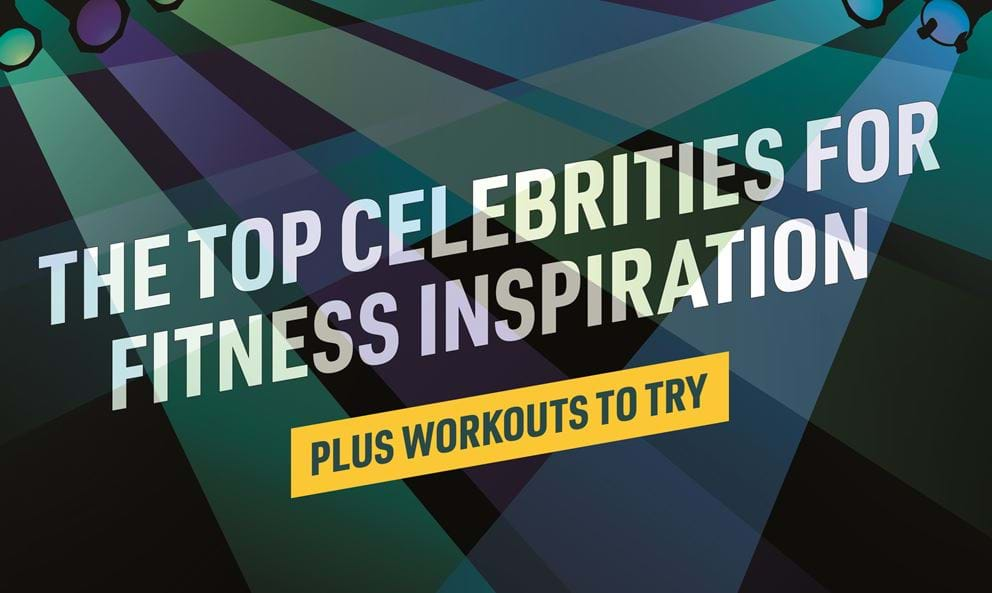 When it comes to working out, we often look to others to find motivation, and often it's those in the spotlight we turn to for inspiration. 
With the rise of sharing workouts on social media, the workout routines of our favourite celebs are no longer a Hollywood secret, so we did a little digging to find out which stars are inspiring us the most.
After analysing search data for more than 500 celebrities, from a-list actors to sporting legends, the results reveal an eclectic mix of the celebs we're looking to emulate when working out. Read on to find out who topped our list, and to watch our celebrity-inspired workout videos. 
Who are your celebrity fitness inspirations?
The biggest celebrity fitness inspiration was revealed to be Australian Hollywood actor, Chris Hemsworth, with a massive 264,000 average yearly searches for his workout routines. Noted for his superhuman strength starring as the Marvel superhero Thor, Hemsworth sees more than double the number of searches as movie megastar Dwayne "The Rock" Johnson (who came in at 3rd).
And the super hero theme continues into second place, with fellow actor and Marvel co-star Chris Evans, who transformed his physique for his leading role as Captain America following an intensive strength-based workout routine and high-protein diet.
The number one female celebrity fitness inspiration was found to be Hollywood actress Gal Gadot. Yet another superhero star to be featured on the list, Gadot went through six months of high-intensive training to prepare for her role as Wonder Woman, so it's no surprise that she's such an inspiration to others looking to get fit.
In fact, 7 out of the top 10 most popular celebrities for fitness inspiration have played superheroes in Marvel movies, including other fantasy figures like Tom Holland and Ryan Reynolds. 
Elsewhere, Lebron James was the number one sport star where global fitness inspo is concerned, with the likes of Cristiano Ronaldo and Conor McGregor not even making the top 20. Musicians Jennifer Lopez, Beyonce and Britney Spears are also highly rated for fitness-related searches, while, Khloe Kardashian came in as the top-ranking Kardashian (thousands of searches ahead of her sisters Kendall and Kim).
The top 50 celebrity fitness inspirations

Complete your own celebrity-inspired workout
If any of these celebs have motivated you to boost your own fitness, our PureGym personal trainers have created these easy to follow workouts, inspired by the top male and female celebrities on our list.
Chris Hemsworth - Kettlebell Workout
As his Marvel character, Thor, Chris Hemsworth is famous for his hammer-hurling fighting style. While we're not able to perfectly replicate the hammer of the Gods, a Kettlebell is surely the next best thing. PureGym PT Steve Ung has created this Hemsworth-inspired kettlebell workout to help build up a God-like strength in your arms and legs. 
Gal Gadot - Military Style Exercise Routine
Famous for playing on-screen daughter of Zeus, Wonder Woman, Gal Gadot's training, much like her character, involved plenty of fighting choreography as well as hitting the gym to build muscle and improve strength. PureGym Insider Kay has created this functional full body workout that will help tone your body and make you feel like a demi-God too.
Chris Evans - Functional Training
Renowned for playing superhero good-guy Captain America, Chris Evans focused on building full-body strength with exercises helping to improve power and speed. This  workout from PureGym Leeds PT Steve Ung is inspired by Evans' regime, which incorporates plenty of compound movements whilst working your cardio fitness  to help you move strong and fast.
Jennifer Lopez - Shaping the Upper Body and Abs 
Singer and actress Jennifer Lopez is famous for lighting up any stage with her on-stage performances, busting some high energy moves for hours and days whilst on tour, which couldn't go without a solid workout routine. Kay's workout will leave you feeling empowered with your own strength and a strong core like JLo's. Looking for even more ab-toning workouts? Find some here!
Dwayne "The Rock" Johnson - Upper Body Strength and Bulk
Whether you know him from his wrestling days as The Rock, or for his acting roles in movies like Fast and the Furious, Baywatch or Jumanji, it's hard to ignore Dwayne Johnson's incredible upper body strength and sizable shoulders, chest and arms. That's why the focus for this 'The Rock' inspired workout from PT Steve Ung is all on building muscle and boosting upper body strength. Check out more of our arms & shoulders workouts to keep training like The Rock, too!
Beyonce - Strong and Shapely Legs
There are many reasons why the world might want to be more like international phenomenon Beyonce, not least her powerful, curvy physique and incredible hip-shaking dance moves. That's why Kay Miyake's Queen Bey-inspired workout focuses on building strength and stamina in the legs and glutes - helping you to perfect your own dance techniques. Once you've mastered this, why not try this full body workout too?
Whilst finding inspiration through others can be a great way to fuel your fitness, finding a workout routine that works for you and makes you feel good is just as important too. 
NO KIT? NO PROBLEM
Stay active at home with 400+ free workouts and classes on demand in the FREE PureGym app.
You'll be able to find more workout inspiration, tips and advice over on our blog. If you're after some support with your own health and fitness journey (whether or not that's inspired by your favourite celebrity!), book a session with a personal trainer who will help shape a plan to suit your needs and goals.