Chicken and Vegetable Paella Recipe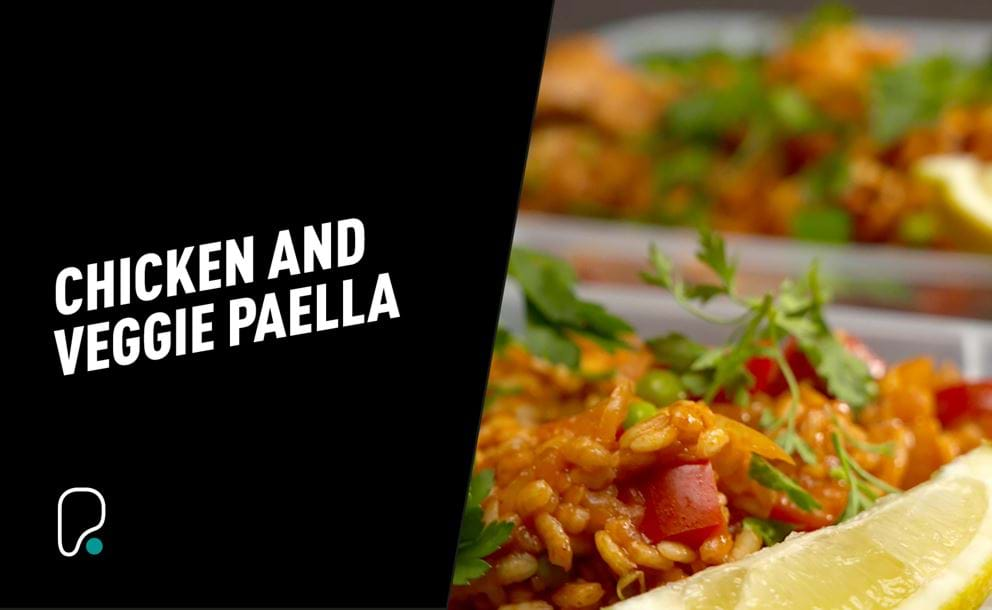 This one-pan paella recipe is easy to follow and makes a hearty and healthy meal packed with flavour.
Watch the video to see how to make it step-by-step.
Chicken and Vegetable Paella Ingredients
2 skinless chicken thighs

1 onion

1 garlic clove

1 tsp Spanish paprika

1 red pepper

1 yellow pepper

2 tbsp tomato paste

1 chicken stock cube

200g Paella Rice

75g frozen peas

1 lemon

Fresh parsley to serve
Chicken and Vegetable Paella Method
Start by prepping your ingredients. Finely dice the onion, peppers and garlic and put to one side.

Heat a frying pan or paella pan with a few sprays of fry light and add the garlic and onion and sauté until soft.

Then add the chicken and brown all over for around 4 minutes, this will give a nice crispy edge to the chicken.

Then add the peppers and cook for 2-3 minutes.

Add the tomato paste, stock cube, rice and paprika to the pan with 500ml water and bring to a simmer.

Stir regularly for 12-15 minutes until the rice is cooked through.

Then add the peas.

Serve topped with fresh parsley and a squeeze of lemon.

Box up into a couple of Tupperware boxes and refrigerate for up to 3 days for meal prep!
For more recipe and healthy meal ideas, check out our Nutrition section