Christmas Yorkshire Pudding Wrap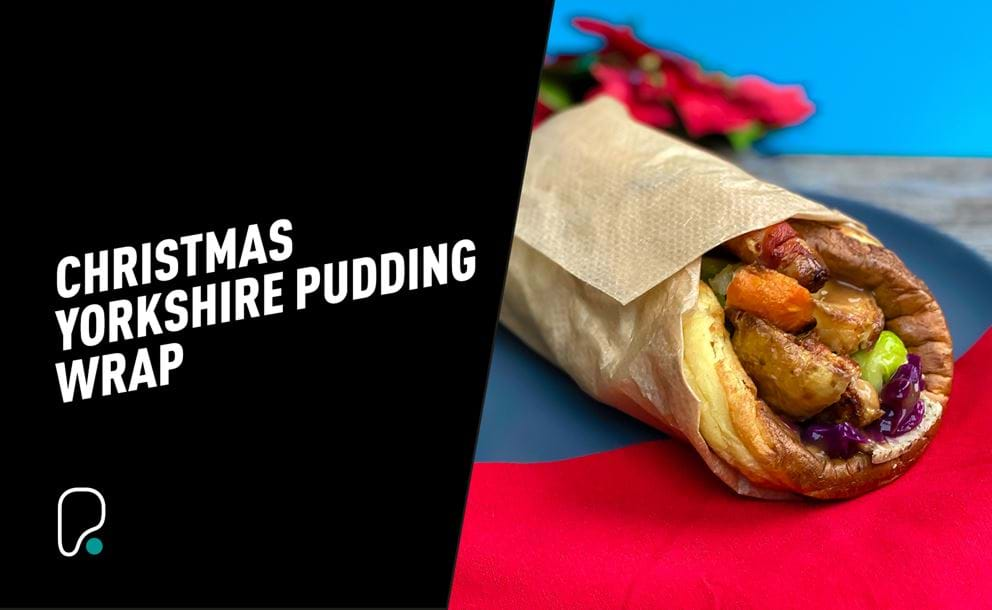 Merry Christmas! Make the most of your Christmas Day leftovers with this tasty Yorkshire Pudding Wrap. Grab all your festive foodie favourite and add them to a homemade light and fluffy Yorkshire pudding drizzled with gravy. It's the perfect way to stop any Christmas leftovers going to waste – and it tastes incredible!
Ingredients
(Serves 1)
Yorkshire pudding mix:
35g plain flour
1 large egg
50ml milk
½ tbsp vegetable oil
Leftovers for the filling:
50g turkey
2 tsp stuffing
2 mini pigs in blankets
25g roasted carrots
25g red cabbage
20g sprouts
2 roast potatoes
4 tbsp turkey gravy
2 tsp cranberry sauce
Method:
First start by grabbing your leftovers, this is fully customisable so grab all your festive favourites here or you can follow our suggestions above.
Next up make the Yorkshire pudding mixture. Whisk together the flour, eggs and milk until smooth. Season with salt and pepper and then leave to stand for 15 minutes.
Heat oven to 220 degrees Celsius and add the oil to a circle baking tray and place in the oven for 10 minutes.
Take the tray very carefully out of the oven and add your mixture until the tray is half full, you might not need to use all of the mixture depending on the size of your baking tray.
Place back into the oven for 20 minutes until risen and golden brown.
Whilst cooking, heat your leftovers up ready to make your wrap.
Take your Yorkshire pudding out of the oven, leave to cool slightly and then flatten with a rolling pin to create your wrap.
Top the wrap with cranberry sauce and stuffing then layer in the rest of your festive favourites.
Roll up and cut in half, serve with piping hot gravy.
For more tasty recipes like this and for lots of nutritionist tips and tricks click here.