Suffering From Gymtimidation? Here Are The Best Ways to Beat It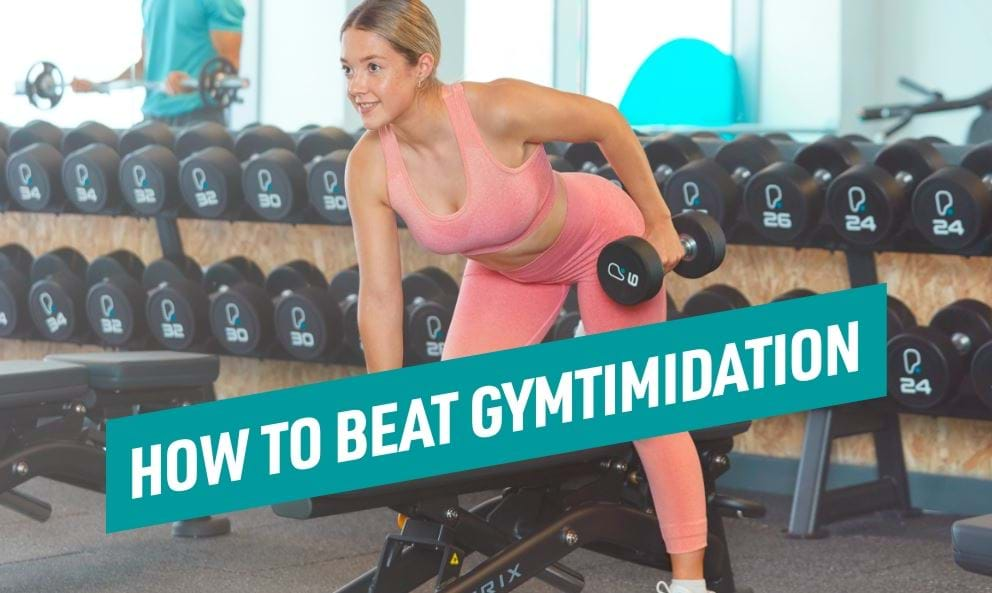 While we love the gym and helping our members embark on their own fitness journeys, we're mindful that for some, entering the gym can be the source of nerves, a phenomenon now known as gymtimidation.
We previously found that 1 in 4 people would rather face injections and spiders than go to the gym, with reasons including being afraid of how they look in front of other members and being unsure of how to use the equipment. No matter why you have it, gymtimidation can get in the way of a great workout. Our latest research revealed that 1 in 3 (39%) of gym users have even considered cancelling their membership due to a lack of confidence when training in their local gym. We want to help boost confidence around going to the gym so that anyone can reach their health and fitness goals.
To learn more, we surveyed over 800 of our gym members to find out what does and doesn't contribute to in-gym confidence the most, in order to uncover the best ways to tackle gym nerves, however much you feel them.


THE TOP FIVE THINGS THAT MAKE US FEEL THE LEAST CONFIDENT WHEN JOINING A GYM

Using the equipment properly: 60% of us are most concerned about not knowing how to use the machines when we visit

Not being as "fit" as everyone else: More than half (56%) of respondents felt uncomfortable about not being as "fit" as others at the gym, while 54% felt unconfident about their own body and the way they looked

Visiting the gym when it's busy: 55% of gym members don't like to train at times when there's lots of other people around

Not having a defined workout plan: Almost half (43%) of the people we asked struggled with not knowing where to begin when they entered the gym itself

Having to ask for help or advice: Just over a third (36%) of respondents found asking people for help at the gym the most uncomfortable part of joining
HOW TO OVERCOME GYMTIMIDATION
We wanted to see what gymtimidation looks like in real-life, so we set up some research with the help of some non-gym members who struggle with it. To do this, we used heartrate monitors to track their stress levels as they completed a series of tasks within the gym.
First up, we tracked the heartrate of each volunteer as they entered and explored the gym on their own, without a plan, while trying out some of the equipment with very light activity (so not to spike their heartrates unnecessarily). They then headed back in a second time with a "stress reliever" - a friend, a personal trainer or a workout plan, so we could monitor just how much difference a slight change in the way you train can help combat nerves.
Unsurprisingly, each of our three volunteers demonstrated a more unstable and higher maximum heart rate in their initial visit to the gym, with one volunteer even reaching 150 beats per minute (bpm) when asking another gym member how to use the cross-trainer.
Having a defined workout plan came out on top as the biggest stress reliever among our volunteers, supporting our survey findings that going into your session with a clear plan can reduce intimidation at the gym.
Anna - Entering the gym accompanied by a friend

Anna, 55, shares what she felt made her most nervous and how having a friend helped her: "Being with a friend the second time around was lovely – like night and day. I found it a lot more comfortable visiting the gym with a friendly face, especially one that knew what they were doing."
Susannah – Entering the gym accompanied by a personal trainer

Susannah, 23, shares her experience being accompanied by PureGym personal trainer Brad: "I felt slightly self-conscious walking around next to a personal trainer because it made it quite obvious that I was new, but just being accompanied by someone knowledgeable was massively comforting, and having that friendly face around the gym is a big stress reliever for future visits too!"
Nat – Entering the gym equipped with a workout plan and instructions

Nat, 29, shares her experience of visiting the gym on her own vs. visiting with a defined workout plan and instructions: "My first visit was stressful! I think having a format to follow, and an actual routine the second time around, is what reduced the stress so much. It's a lot easier to stay calm when you don't have to make any decisions on the spot."
THE TOP FIVE THINGS THAT HELP GYM-GOERS FEEL CONFIDENT WITHIN THE GYM
Our survey also revealed the things that help gym goers both new and old feel the most confident in the gym, and help to remove any gymtimidation:

Visiting the gym during quiet periods: The largest majority of people surveyed (62%) agreed that heading to the gym during quieter times makes them feel more confident

Knowledge of the gym equipment and layout: Over half (52%) of gym members say that knowing how to use specific pieces of kit lessens their intimidation, and 44% agree that prior knowledge of the gym layout gives them more confidence

Having a defined workout plan: A huge 39% of us get a confidence boost from having a pre-planned workout to follow before we enter the gym

Visiting the gym with a friend: More than a third of the people we asked (35%) stated that having a friend to workout with helps to keep their nerves at bay

Attending gym classes: A further 35% of participants find that joining the gym's classes instead of working out solo makes them the most comfortable.
With more than half of all current gym members stating that visiting the gym outside of peak periods helps to resolve their anxiety, we decided to look into the quietest and busiest times at our gyms. Excluding bank holidays, Mondays are generally the busiest - so avoid these while you get to grips with the gym layout, machines, and your workout programme. Where possible, avoid going to the gym between the hours of 5 and 7pm and instead visit between 7-8am or 9-11pm; and don't forget that you can check in on how busy your gym currently is on our app, the live attendance tracker will show you how many people are in the gym so you can plan your visit accordingly and beat the crowds!

Kat Crisp, a PureGym PT based in Leeds City Centre South, has also provided her tips for boosting your confidence in the gym:     
TAKE A TOUR OF THE GYM BEFORE YOU START
Whether you're new, or are confident in your training but have moved gyms, it can feel intimidating not knowing where any of the kit is as every gym is set out differently and uses different kit. Taking a tour of the gym before you start, either through an induction or simply walking around, can help alleviate nerves. Knowing where everything is from the changing rooms to the water fountain and the pieces of kit you need will also mean you spend less time in the gym for your workout, making it feel easier to get it done. 

WEAR COMFORTABLE CLOTHING
Social media can make us believe that everyone is training in just a sports bra and the tightest, shortest shorts. If the idea of donning this kind of gear makes you feel uncomfortable, you are not alone. You do not need to be wearing a certain brand of clothing to fit in at the gym; if wearing something baggy makes you feel confident then wear that! Likewise, if you feel more comfortable in a sports bra and shorts go for it. Whatever your outfit, make sure that you can easily move around in it. You don't want to be constantly having to readjust your clothing because you don't feel comfortable in it. 

REMEMBER, IT'S NORMAL TO SWEAT
Sweat patches and red faces are a part of the gym environment. Few people look nice at the gym, so don't feel the need to apologise for sweating or going red. It's just your body's response to help you keep working out!
If you are worried, take a towel with you so you can wipe down you and the kit as needed. All of our gyms also have cleaning stations to wipe the kit down before and after use. 

HAVE A CLEAR GOAL
Think about your reason for going. This should be more than I want to lose weight or get a bit fitter or build some muscle. Get specific. Knowing your reason for going to the gym in the first place can help you get to the gym and stick to going. Motivation comes and goes so having a crystal-clear REASON for going: your WHY is important to keep you on track and pushing past any first nerves. 

AVOID PEAK HOURS
Every gym has peak and quieter times and going outside of these hours, when the gym is quieter, can be less intimidating. PTs and gym managers will be able to let you know the most popular times, and the PureGym app updates in real time so you can always monitor the app for a few days to know when it is generally quieter.

FOLLOW A PLAN
Having a plan to follow can help you to feel much more confident in what you are doing at the gym each day.
For example, imagine you are in the gym and plan to make up your workout on the spot depending on what kit is free. You see something you recognise is available but as you are walking over there, someone gets there before you. Now, you are in the middle of the gym unsure what to do and convinced everyone is watching you squirm.
In contrast, when you have a plan in place, you can move on to a different exercise until the machine is free.

GO AT YOUR OWN PACE
When starting out it can feel like everyone knows what they are doing and know you don't and therefore are watching you, but most people in the gym are there for themselves to learn and refine their skills and not what other people are doing.

Remember that training is a skill that needs to be learnt, and everyone in the gym was once a beginner too. Don't compare the beginning of your journey with the middle of someone else's: it's okay to be a beginner! 

If you're worried that you aren't fit enough for the gym or classes, don't be! Everyone has to start somewhere and it's okay if you can't keep up the same pace or lift the same weights as other people. Let your body dictate the pace and focus on improving your strength and fitness, one day at a time.

GETTING OVER YOUR FEAR
At the end of the day, the most important part of visiting a gym and becoming comfortable is finding what works for you. So, any of the above methods are worth trying, to see what helps you feel your best when attending.
Whether it's a workout plan and detailed instructions like our volunteer Nat used to reduce her nerves, a personal trainer or visiting at quieter times - we hope you find the best way to make the most of your workout. Whatever you find works, we'll be here to help you in your journey each step of the way. Our team are always happy to help, or you can head to the app for information, You'll even find 400+ free workouts to set you on your way! The gym is a fun place to be, and we look forward to welcoming you to one soon.


For further advice and tips on reducing your gymtimidation, read our previous report here!


Methodology:
We conducted a survey to 850 current gym users, aged 16 and above. All data correct as of September 2021.