3 Effective Lunch Break Workouts You Can Do In An Hour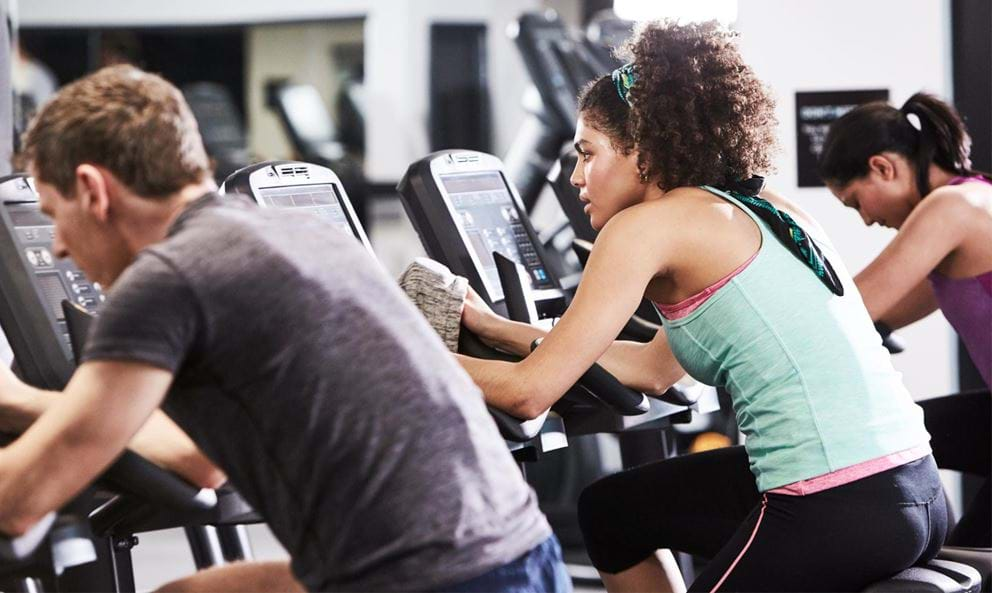 Page last updated: 24th May 2023
What would you rather do with your lunch hour: eat at your desk while checking your emails, or head to the gym for a quick and effective workout that will take you a step closer to your fitness goal?
The Benefits Of A Lunch Break Gym Workout
If you struggle to fit workouts into your daily routine, a lunchtime workout may be the answer. Using your lunch hour to work out allows you to stay active without having to wake up early or sacrifice some of your social life or family time. It can also help to boost your energy to get you through the afternoon - a study by Leeds Metropolitan University found that people who work out at lunchtime reported feeling about 15% more productive after exercising and left work feeling more satisfied.
You'll also get all the benefits of increased physical activity, including:

Improved overall health and wellbeing

Increased energy levels and productivity

Reduced risk of stress and depression
3 Of The Best Lunch Break Gym Workouts
To help you get started (or to stay on track) in reaching the recommended weekly exercise quota, our PTs have put together a selection of workouts, for all fitness levels, that are short enough to fit into your lunch break but will give you a fantastic workout, while leaving you enough time to freshen up before heading back to the office.
Beginner Lunchtime Workout

Intermediate Lunch Break Workout

Weighted barbell squats - 3 sets of 10-12 reps

Set up a squat rack or find a stable surface to support the weight.

Position the barbell on your upper back, resting it across your shoulders. Make sure it is centred and secure.

Stand with your feet shoulder-width apart and toes slightly turned out. 

Engage your core and keep your chest up as you lower your body down into a squat position.

Bend your knees and hips, pushing your hips back and lowering your body until your thighs are parallel to the ground or lower, if possible. Keep your weight balanced on your heels throughout the movement.

Push through your heels and extend your hips and knees to return to the starting position.

Mountain climbers - 3 sets of 15 reps


Start in a press-up position with your hands shoulder-width apart directly beneath your shoulders.

As quickly as you can, pull your right knee towards your chest without letting it touch the floor then return to the start position. 

Repeat immediately with your left leg. This is one rep

Continue until you have completed the required amount of reps.

Dumbbell chest press - 3 sets of 8-12 reps


Gripping two dumbbells, sit on a bench before slowly lying down and extending your arms so that the dumbbells are above you, palms facing towards your feet.

As you lower the dumbbells, keep the elbows tucked to prevent the elbows from flaring. 

Lower the dumbbells in line with your mid-chest, making sure to lower the dumbbells until they are either side of the chest.  

Return to the starting position by pushing through your arms, chest and feet as you lift the dumbbells back up in an arc direction until your arms are extended.

Back raises - 3 sets of 12-15 reps

Lie face down on a back extension bench or stability ball, positioning your hips and lower abdomen on the support.

Place your feet securely against the footrest or have someone hold them in place.

Cross your arms over your chest, engage your core muscles and, keeping your back straight throughout, slowly raise your upper body by contracting your lower back muscles.

Lift until your upper body is in line with your legs or until you feel a comfortable stretch in your lower back.

Hold the position briefly, before lowering your upper body back down to the starting position in a controlled manner.

Plank - 3 sets of 30 seconds

Adopt a push-up position, with wrists and elbows stacked directly under the shoulders, and body in a line from head to heels.

Push through your hands and squeeze your core by pulling your belly button towards your sternum to engage the abs.

Hold the position for as long as possible or for the desired time.
Advanced Lunch Hour Workout

For some even shorter workout options, check out this quick 30-minute circuit or try one of these 20-minute HIIT workouts. You can access a wide range of high-quality gym equipment at a PureGym near you.