Moroccan Style Steak And Salad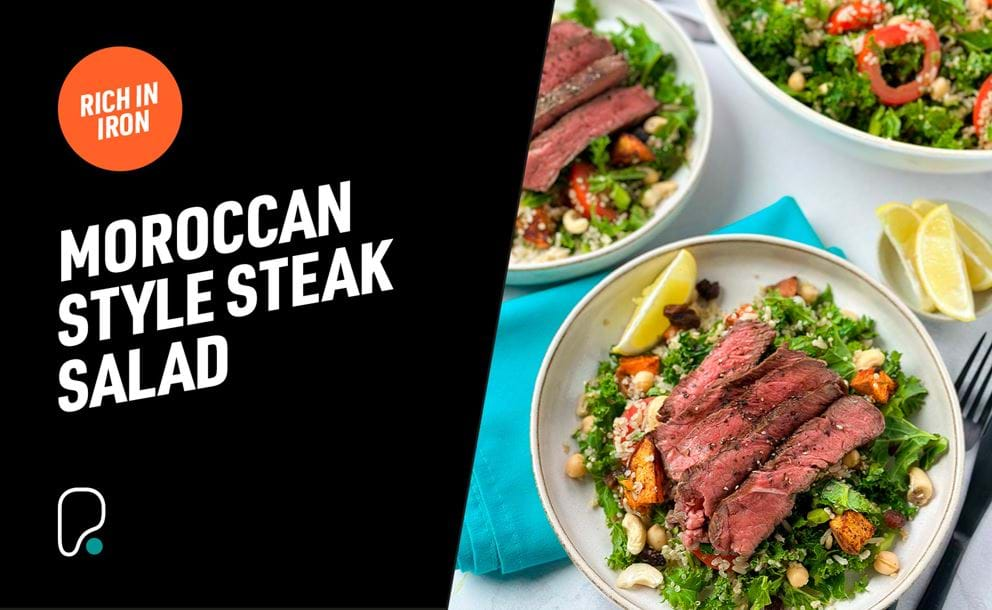 Salads have an unfair reputation as a sad, tasteless meal reserved just for calorie deficits, and we want to change that. Pack a salad with the right ingredients and it becomes a delicious meal that will keep you satisfied for hours. Take our Moroccan style steak salad below; this dish ticks all the boxes! Protein, complex carbs, fresh herbs, and powerful spices, for a meal that delights, and nourishes.

We've opted for steak as our protein source as it's high in iron, an essential mineral we need to get from our diets as our body cannot produce it. While everybody needs iron, women with monthly cycles and teenage girls are at most risk of having an iron deficiency. This recipe has over 50% of a woman's daily iron needs, and almost the full requirement of men. 
We've paired the steak with sweet potato, chickpeas, brown rice, and quinoa to give this salad a big boost of fibre, plus a selection of textures to keep each mouthful interesting, and a selection of veggies for even more nutrients.

This recipe takes around 40 minutes from start to finish and serves 4. It works well as a lunch or dinner and makes a great post-workout meal thanks to the protein.
Ingredients (serves 4):
400g fillet steak
200g sweet potato
2 tsp paprika
1-2 tsp chilli powder
125g brown rice
100g quinoa
150g tomatoes, sliced
250g chickpeas, drained
150g kale
30g raisins
20g cashew nuts
Fresh mint, finely chopped
½ lemon, juiced
Salt
Freshly ground black pepper
Method:

Preheat the oven to 180 degrees, then remove the steak from the fridge and let it rest for 20-30 minutes. Season if desired.

While the steak rests, chop the sweet potatoes into small cubes. Leave the skin on for extra fibre!

Add sweet potato cubes to a baking tray, spray with low calorie oil spray and season with paprika and chilli powder then roast in the oven for 30 minutes.

If using uncooked quinoa and rice, follow instructions on the packet to cook. If using microwave packs, heat just before serving.

While the quinoa, rice and sweet potato are cooking, add the tomatoes, chickpeas and kale to a big mixing bowl along with the raisins, cashew nuts. Season with salt and pepper and add the mint and lemon juice.

10 minutes before the quinoa, rice and sweet potato are cooked, heat a tsp olive oil in a frying pan and when the pan is hot, add the steaks turning every minute until desired serve (medium 8 mins).

Let the steak rest for a few minutes as you add the cooked quinoa, rice and sweet potatoes to the salad mixing bowl ingredients – mix well.

Divide the grain mix between serving bowls and top with sliced steak.
Looking for more tasty salads? Why not try our chicken, chickpea, and kale miso salad. If you need more inspiration, we have tons of healthy recipes here.