The pillars for good health: Pure Wellbeing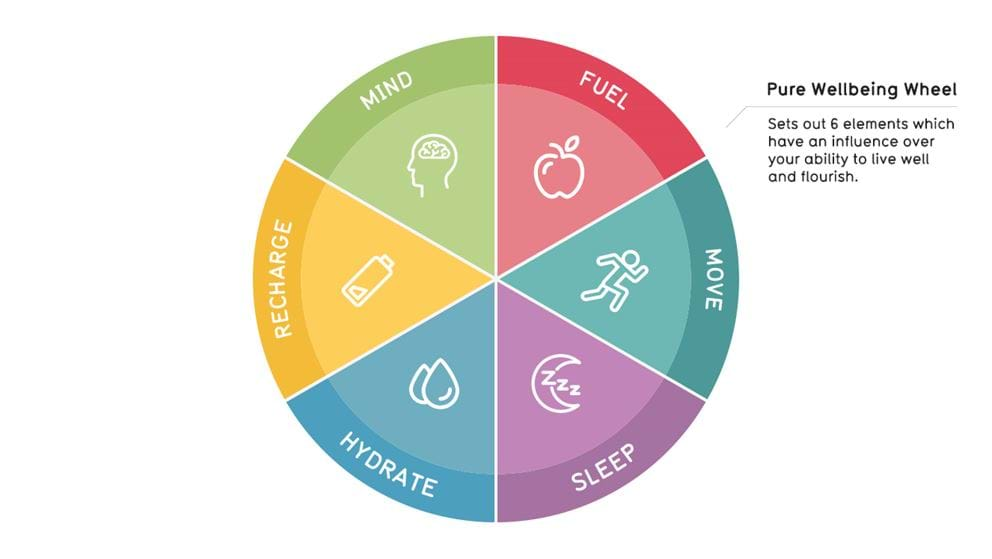 To celebrate National Fitness Day here's an exciting overview of Pure Wellbeing, which we believe is the number one way to reach your fitness goals and lead a healthy, happy and balanced lifestyle. Over the next six months we'll give you the confidence and knowledge to improve your physical and mental wellbeing. So read on and get ready to get inspired!
What is Pure Wellbeing? 
We created Pure Wellbeing to help you enhance your physical, mental, emotional and social health. We'll help you introduce small changes to your lifestyle that will have a positive effect on your overall wellbeing. By giving you access to the latest and best research on health and performance, you'll discover how to stay energised both physically and mentally to do the things you love more often. We'll provide you with practical tips, simple tools and easy wins that will help you take charge of your wellbeing, find the right balance to stay healthy, and ultimately be your best self. 
Why we're doing this
Our goal is to help you lead a healthier, happier lifestyle, and not only improve your health and wellbeing but your emotional and mental wellbeing too. Life can be full on and not everyone has the time to dispel the tabloid health myths from the scientific evidence. Pure Wellbeing does the hard work for you, supported by the latest thinking on how our bodies and brains function best. 
What could you achieve? 
Do you like the idea of lowering your risk of developing health issues and disease? Want to lead a longer and more fulfilling life and gain the energy to accomplish more? They're just some of the positive changes you could experience in your life by taking charge of your wellbeing.
What to expect
Over the next six months, we'll be publishing a monthly blog focusing on the six essential elements which we believe help us reach our full potential, especially when we bring them all together. These elements we've established don't work in silos, but instead complement one another so in each month, you can discover new and evidence-based ways to live a more balanced and healthy lifestyle. Each blog will give you the latest thinking on health and wellbeing and provide practical tips that you can implement into your daily routine for a more healthy and mindful life. Let's take a sneak peak at the upcoming blogs:

October: Fuel
What we eat directly affects our brain power and physical energy. This blog on how to fuel your body will help you discover which foods will have a positive impact on your stamina, weight control, concentration, and creativity.

November: Move

If exercise were a drug, it would be the most effective prescription ever, as every system in your body benefits from exercise. This blog on 'How to sneak more movement in your life' will uncover the physical and mental benefits of staying active. 
December: Sleep

Lack of sleep can negatively affect thinking, concentration and creativity, plus cause weight gain and stress. This blog will help you re-tune your body clock for optimum performance. If you sleep well, you'll think well.

January: Hydrate
Our bodies are approximately 60% water so to function best it's vital we stay hydrated. But how much should you drink and which drinks are best for you? This blog will reveal all.

February: Recharge
Rest reboots performance. This blog will reveal the importance of allowing your body and mind to recharge, and why you should never, ever run on empty.

March: Mind

Stress can affect your body and brain performance. This blog will help you understand the fight-flight-freeze response and develop constructive coping strategies and a resilient mindset.
As you'll discover over the next few months, small changes in the right places can make a big difference. We look forward to joining you on your Pure Wellbeing journey.
Working in partnership with Dr. Sarah Hattam MB ChB, MRCGP, DF SRH and Concilio Health.