Thai Salmon Salad Recipe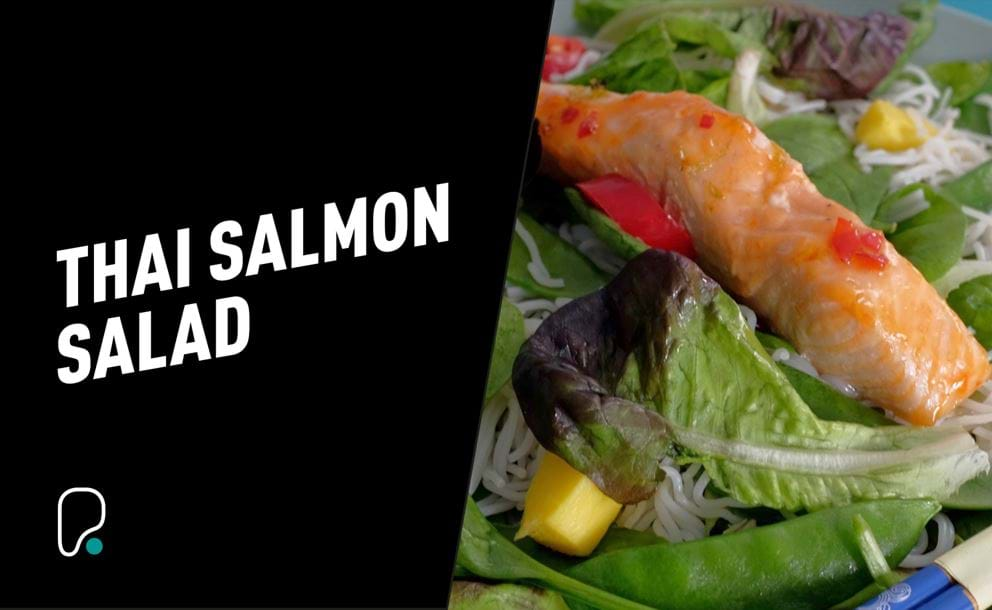 Did you know salmon is not only high in protein it's also a great source of healthy fats - specifically omega-3 fatty acids? Plus, salmon is also a great source of Vitamin B12 and potassium.
But why is this important? Omega-3 is classed as an essential fatty acid (EFA) because our bodies are unable to produce it naturally, meaning we have to consume it from dietary sources!
So why not give our Thai Salmon Noodle Salad a go after your next workout. It's packed full of protein, healthy fats and balanced with carbohydrates to help you fuel up after your training session. Plus it tastes incredible too.
INGREDIENTS
Serves 1
1 Salmon Fillet
75g vermicelli noodles
1 handful of pea shoot salad
50g mange tout
25g mango
1 spring onion
½ red chilli
½ lime
1 tsp reduced sugar sweet chilli sauce
Low Calorie Spray
METHOD
Preheat your oven to 180 degrees celsius.
Start by covering the salmon with 1tsp reduced sugar sweet chilli sauce and the zest of half a lime and place into the oven for 10-12 minutes.
Heat a large frying pan with a few sprays of low calorie spray and sauté mange tout and noodles until they and warmed through and squeeze on the juice of half a lime.
Serve the noodles and mange tout, and mix together with a handful of salad.
Top with mango, sliced red chilli and spring onion.
Take your salmon out of the oven and place on top of your noodle salad.
For more high protein recipes perfect for post workout, check out our nutrition section.