The Top 5 Free Mindfulness Apps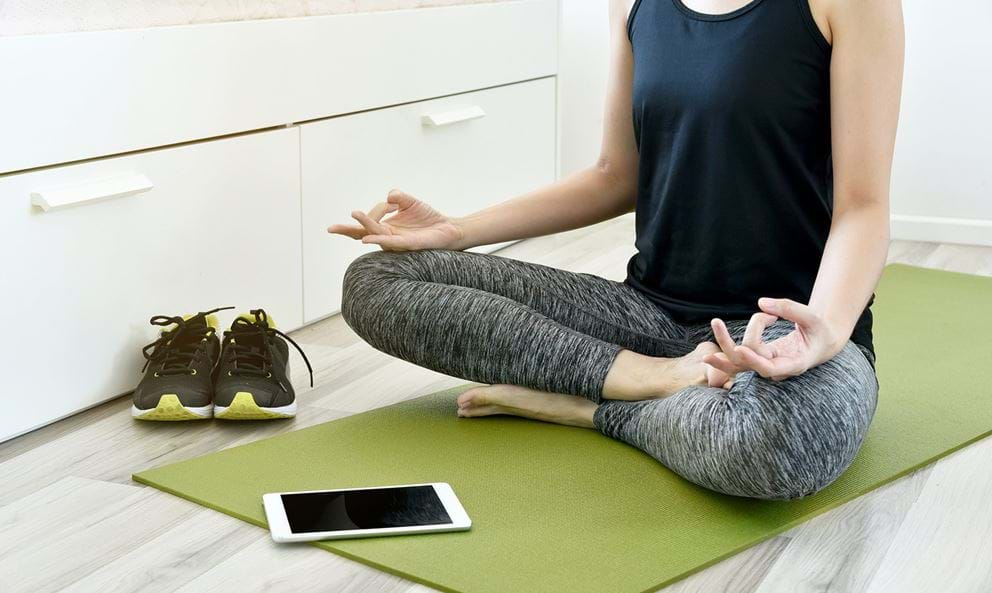 As life gets increasingly busy with more distractions vying for our time, it's never been more important to be mindful of what's going on inside and outside our bodies. According to Professor Mark Williams, former director of the Oxford Mindfulness Centre, mindfulness is living in the moment and being aware of our thoughts and feelings as they happen. "When we do that, it can positively change the way we see ourselves and our lives." [1]
Tuning into your body's thoughts and emotions not only helps you become more aware of the signs of stress, it gives you the opportunity to deal with them. Of course, some stress is good for you but too much can cause serious issues including heart disease, stroke, asthma, diabetes and some types of cancer. [2] The National Institute for Health and Care Excellence (NICE) also recommends mindfulness as a way to prevent depression in those who've had 3 or more bouts of depression in the past. [1]
Headspace

Designed to help you train your mind and body for a healthier, happier life and get the most out of your day, Headspace can be used anywhere. The free version of the app includes meditations and exercises led by Headspace co-founder Andy Puddicombe that will teach you the essentials of meditation and mindfulness. 
Named an 'Independent Best Buy' and featured on The Ellen Show and The Tonight Show starring Jimmy Fallon, a recent Headspace user review states: "After a few days with guided meditations I could really notice a difference in my way of handling stressful moments."
Available for download on Android and iOS
Calm

Described by a user as "a truly life-changing app", Calm is the perfect meditation app for beginners (there's a seven-day beginner's programme to get you started) but also includes programmes for more advanced users.
The short, guided meditation sessions cover the basics of mindfulness and there's also a library of soothing nature sounds and scenes to use at your leisure. One great feature if you're looking to improve your sleeping patterns is the 'Sleep Stories' - bedtime stories for adults 'guaranteed to lull you to sleep'. 
Available for download on Android and iOS
Aura

If you're after a personalised meditation experience, Aura could be the app for you. Described as a 'new kind of mindfulness app', Aura learns about you by asking questions. You then receive a daily three-minute mindfulness meditation based on your answers.
Compatible with the Apple Watch and loved by Apple (#1 New Apps We Love), Aura is designed to help you control your stress and thoughts better to reduce stress and increase positivity. A recent user review said: "It helps me take a step back from my busy schedule and to calm my nerves."
Available for download on Android and iOS
Stop, Breathe & Think

Another app offering a personalised meditation and mindfulness experience is Stop, Breathe & Think. According to Cosmopolitan, this app has 'stand out' customisation tools that deliver meditations based on your current emotions and feelings. 
A recent study saw a 22% decrease in users feeling anxious after just 10 short sessions. Winner of the 2017 Webby People's Voice Award for Best Health App, a current app user described Stop, Breathe & Think as a "great app to begin a new meditation practice or strengthen an existing one."
Available for download on Android and iOS
Insight Timer

Described by the Independent as "a social network for meditators", Insight Timer lets you share and discuss your mindfulness experience with like-minded people around the globe. Community groups include Beginners, Transcendental Meditation and much more, plus there's a packed library of guided meditations led by the world's top mindfulness experts and meditation teachers.
Winner of TIME magazine's Apps of the Year, a recent user had this to say: "Fantastic app! Helped me get back on track with meditation. Huge variety of meditations, talks & support." 
Available for download on Android and iOS
For more wellbeing tips check out our Pure Wellbeing blogs which cover aspects on sleep, eating well, hydration, and more here.
References
[1] https://www.nhs.uk/conditions/stress-anxiety-depression/mindfulness/