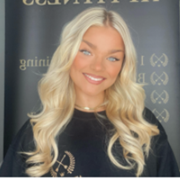 Abbie Thomas
By educating myself on exercise and nutrition I have radically changed my body, mindset and lifestyle. Exercise and a good diet is now second nature and I love it so much that I acquired the professional qualifications to work in the industry and I am excited to help others to become the best version of themselves.
Having been on a journey myself, I know the pitfalls and the distractions that get in our way and that is where I can help by keeping you focused and helping you through any mental or physical barriers you may have. Having a negative relationship with food and exercise and suffering from low body confidence can be debilitating. My aim is to provide the tools so that a healthy balance can be achieved where exercise and nutrition become a good habit. Not everyone's journey will be the same and we will work as a team to find the best approach for you. I will be tough and strive for you to reach your full potential. I provide personalised exercise and nutrition programs in order to get you to that next level and reach your goals.
Free consultations are available. Let's get started.
Specialist Areas
Body fat reduction
Muscle tone and development
Nutritional guidance
Weight loss
Qualifications
HFE Level 3 Personal trainer
HFE level 2 Gym instructor
AFN/CPD advanced certified Nutrition Diploma