Feeling fitter and stronger at 40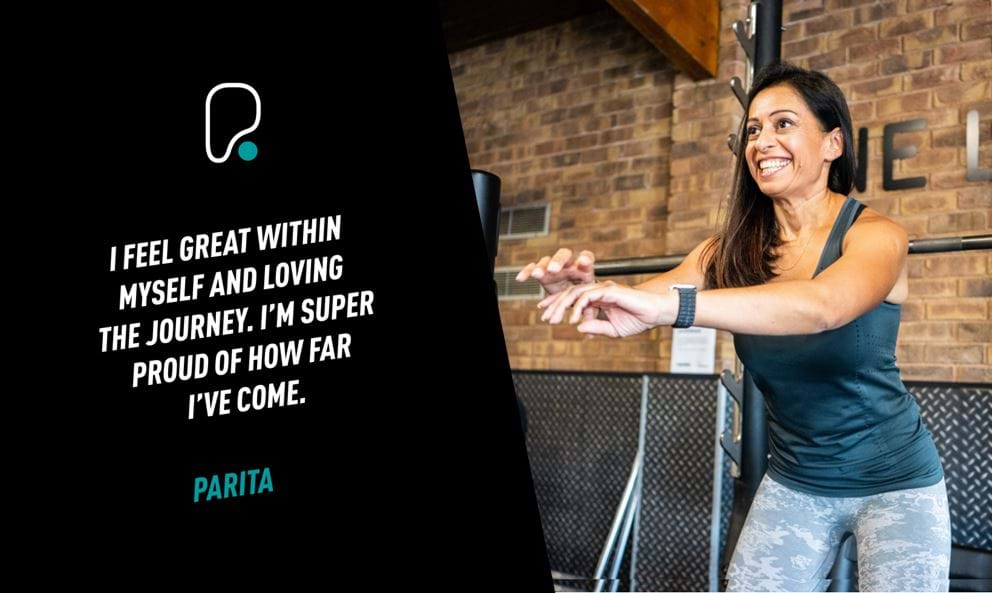 When Parita turned 40, she was overweight and taking medication for high blood pressure. She made the decision to join the gym and focus on her health and wellbeing. Exercise has helped to improve her mental and physical health, and she's even been able to lower her blood pressure medication. Read her story here. 
Before joining PureGym Northolt, exercise was something I didn't stick to consistently. When I was at school, I took part in lots of different sports from football and cricket to netball and field athletics. But then that all stopped when I concentrated on my studies.
20 years went by without playing sports or keeping active. I became overweight.

At the time, the work I was in was quite stressful and I suffered from hypertension and took medication to help manage it. When I turned 40, I decided I needed to make my wellbeing my priority, so I quit my job, travelled for a bit and then joined the gym.
I've been with PureGym for 3 years now and since joining I've been training consistently with the help of my personal trainer Michael.
Working out is now something I enjoy doing.

It's part of my lifestyle and I've seen great improvements to both my mental and physical health. I've reduced my medication for my hypertension, and I feel much better inside.
When I started going to the gym, I mainly used the cardio machines. It wasn't until about a year later that I had the courage to get personal training sessions. I'd say to anyone starting out in the gym to not be afraid to approach a PT and ask for help – after all, that's what they're there for!
Having Michael as my PT has been great.
We were able to build solid foundation of how to perform exercises safely and correctly. We addressed any weaknesses that I have which could potentially cause injuries. Michael goes above and beyond and has a real passion for fitness which you can see when he works out himself, and when he trains his clients. He's been not just a personal trainer to me but a life coach as well.

I really love PureGym. It literally is my second home. It has all the equipment I need to stay fit and active. It may not have the luxuries of a spa like some gyms do, but I'm there to go workout. If I wanted a jacuzzi, sauna or spa, I would rather prefer to book myself a relaxing spa day.
Since working out at PureGym I am more confident. I smile more. I try to do things I might have feared to do before. I was a high tempered person - very reactive to everything and anything. I'm much calmer now training with Michael in the gym. I love the person I have become within and at the same time I have a much greater respect for what my body can do for me. 
I feel great within myself and loving the journey. Investing in my wellbeing has been so important. I'm super proud of how far I've come.

When I heard gyms had to close due to coronavirus, it was truly devastating for me, as I'm sure it was for a lot many others. From being in the gym 6 days a week to no gym sessions was a big adjustment to make.
Lockdown left me in a limbo of what I should do with all that free time of not going to the gym.

During the first few weeks of lockdown, I took a step back with my training and started practicing meditation and did a few home workouts here and there. After a few weeks, I lost a little bit of motivation in keeping active, so I had the help of my PT Michael to put weekly workouts together. This really helped but you know nothing is as great as being in the gym! I would still go for my daily walks, as we were permitted to do so.
Once it was okay for PTs to train clients in the park, I started training with Michael.  This was such a relief!
Outdoor workouts using minimal equipment was enough to keep me mobile until the gyms would open. I really did enjoy the park workouts, but it just wasn't quite the same as working out at PureGym.

When the Government announced English gyms can reopen it was like Christmas had come early! I couldn't sleep the night before. I was literally over the moon. 4 months without the gym had felt like a long time.
I am really happy with the Train Safe measures PureGym has put in place.
It's clear where people can and cannot train to maintain safe social distancing, everything is well spaced out and there's more than adequate cleaning stations for members and staff to clean the equipment. I've felt 100% safe training in the gym since reopening. I'm so glad to be back in the gym!