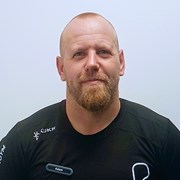 Adam Insley
Harder, Better, Faster, Stronger is my approach of building better humans and as your trainer, coach and educator. I want you to break through your perceived limitations and develop a resilience to achieve more with me as your guide and mentor.
One word I advise my clients to live by is CONSISTENCY!
No matter what you do, you have to be consistent. This is the difference between hitting a new Personal best or missing it, dropping that weight or gaining it, completing that race or quitting, having a weak mindset or building a bullet proof one. It's about tackling your weaknesses, so you don't bend or break. You have to learn to be comfortable with being uncomfortable, this is how you succeed. Learning how to give up, to go up. Which means give up the things that are holding you back, give up staying in that comfort zone, give up doubting yourself.
So no matter what your goal. Training with HBFS, I'll help you build a strong mind and a strong body with these methods, train HARDER, eat BETTER, always FASTER, move STRONGER.
Specialist Areas
Functional specialist
Muscle tone and development
Weight loss
Qualifications
Level 3 Personal Trainer
CrossFit Level 1 Trainer
Kettlebell Trainer
First Aid