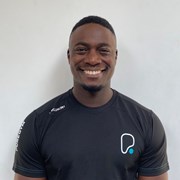 AJ Bediako
Hey, my name is AJ
My best friends would describe me as fun and inspirational!
Starting off in the gym I was bullied for not knowing how to use the equipment correctly. I was scared to ask people for help and advice. What I really needed was someone to guide me through and teach me how to reach my goals.
With a background in performing arts and basketball, although performing confidently I would never take my top off at the beach. These insecurities have now been overcome and the gruelling hard work paid off when I became a member of RuPaul's Drag Race UK's Brit Crew.
I want to pass on the ethos of self-love to my clients and enable them to become the best versions of themselves. I am looking to work with individuals who are committed to pushing themselves to better themselves.
If you want to get in shape for a holiday, I can get you there. If you're looking to add some muscle mass, I have been there and done it. If you are tired of your current training regime, I have plenty of ways to spice up your workouts and keep things interesting. Hopefully, we can work together to get you the results you want because a burden shared is a burden halved.
If you see me in/around the gym say hi as I'm always happy to talk, help or give advice.
Instagram: @ajbedsldn
Specialist Areas
Body confidence
Body fat reduction
Muscle tone and development
Nutritional guidance
Strength and conditioning
Weight loss
Qualifications
Certified Level 3 – Personal Trainer
Certified Level 2 – Gym Instructor
Certified Indoor Cycle Instructor
Certified High Intensity Interval Training Instructor