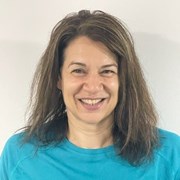 Aline Duriaud
I have a passion for strength training and can help you develop a targeted training programme that is fun, fits into your lifestyle and gets results. Whether your goal is weight loss, a body reshape or developing a consistent fitness routine, we can get there together.
Having struggled for years with body image and disordered eating issues I understand first hand how frustrating it can be to create sustainable change, both external and internal.
Whether you are a seasoned gym goer or a total newbie, I will push you to challenge yourself while respecting your pace. It's important to me that working out with me leaves you feeling good in body mind and spirit.
Specialist Areas
Body confidence
Strength and conditioning
Weight loss
Qualifications
Level 2 Gym instructor
Emergency First Aid