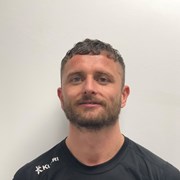 Anthony Carroll
My aim is to coach and give you the tools you need to help you become the greatest version of yourself.
The body is an outer reflection of the mind which is why I believe in mental fitness being equally as important as physical fitness.
I spent eight years in the British Army as a Royal Engineer. Part of my training included log runs, stretcher races and combat physical training which pushed my mind and body to its limits and beyond what I ever thought I could achieve.
With your commitment and hard work I can arm you with a bulletproof mindset which will enable you to overcome obstacles not just in the gym but in your everyday life as well.
Specialist Areas
Body confidence
Body fat reduction
Muscle tone and development
Nutritional guidance
Persistent motivation
Postural correction
Strength and conditioning
Weight loss
Qualifications
Level 3 in Personal Training
Level 2 in Fitness Instructing
Nutrition Advisor