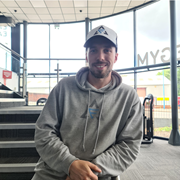 Contact
Free first session offered
Email me
Anthony Ellis
Let me tell you a little bit about my journey...
I've always been involved in sports from a very young age! Predominantly football! This resulted in me running a 5-a-side team weekly. Then, I had a car accident!
My left leg was damaged, I had to stop all forms of exercise. For over a month I couldn't even walk properly! Add to this a 60hr working week, a marriage, and two lovely children, it's safe to say my fitness took a backseat. One day, I ran out of breath chasing my daughter up the stairs. This was the shock that I needed!
From that shock, I got back on the fitness train and the rest is history!
I now compete as a semi-pro wrestler, I train regularly, and am back to my best.
The motivation, mental strength, and setbacks from day to day life did not stop me from attaining my goals.
I know what it takes, I know it can seem impossible, but it isn't, so let me help you 'find your feel good!'
Specialist Areas
Body confidence
Body fat reduction
Injury prevention and rehabilitation
Persistent motivation
Postural correction
Sport specific training
Weight loss
Qualifications
Level 3 Personal Trainer
First Aid at Work