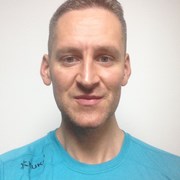 Balazs Czirjak
Hi! My name is Balazs Czirjak and I'm a fully qualified Personal Trainer here at PureGym Harrogate. I have been a long time member here and during those years I witnessed so many trainers helping their clients achieve some fantastic results, I have also seen the community keep growing. So I came to the conclusion that me and my approach to exercise along with my personality would compliment this fantastic team.
Some people really struggle to take that first step to try and change their old habits that altered their health this way or that. We all have fears and doubts, especially when it comes down to start exercising in a crowded environment. Well, you really shouldn't feel that way, because all the people you see are here for the very same reason so you will never become the odd one out. Fitness is fun, it's got to be fun while it has to also challenge you in different ways. The benefits of exercising are so long that I could write a list so long that it would reach the gym floor from the top of my bio so I will tell you about all that in person.
If your goal is to get in a better shape, achieve a higher level of fitness so you can run an obstacle race, climb a mountain or cycle to the seaside then to start off in a gym is a perfect place for it. You and me together can find and develop the best possible way for you to get you there. I'm here to help you to make it happen and become your friend at the same time. You can always find me in the gym and talk to me, I'm here to help. Really looking forward to meeting you.
Specialist Areas
Body confidence
Functional specialist
Nutritional guidance
Sport specific training
Strength and conditioning
Weight loss
Qualifications
AFAA  (Athletics and Fitness Association of  America) Performance Enhancement
NASM (National Academy of Sport Medicine) Human Movement Specialist
Level 5 Professional Diploma In Advanced Exercise And Sport Nutrition
CIMSPA Level 3 Personal Trainer
Level 3 Award in Instructing Outdoor Fitness 
Award In Group Indoor Cycling
Award In Circuit Instruction
Award In Kettlebell Instruction
Optimum performance training NASM