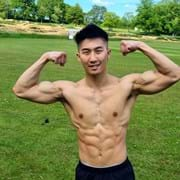 Ben Man Li
After working in the corporate world for 3 years, I took a gamble and left in order to pursue a career in trying to help you achieve your most ambitious fitness goals.
The shear amount of information that you find online can be very overwhelming - trust me, I've been there. However, from obsessing about fitness for the past 6 years, I have been able to strip down all the countless content whether it be articles, videos or research papers into what is true and what is just a gimmick. This coupled with my own experience has allowed me to build an extremely deep knowledge base of fitness that I am dying to share with you all!
My goal is very simple – it is to guide you on this journey, support you mentally and arm you with the necessary tools in order for you to achieve your goals. Everything ranging from the training programme to the nutritional guidance will be tailored to your lifestyle needs as an individual.
Please get in touch to book in your free 1 to 1 consultation so we can start this journey together to achieve your goals!
Check out my social media below!
Youtube: Ben Li
Instagram: benli_fit
Specialist Areas
Bespoke plan
Body confidence
Body fat reduction
Muscle tone and development
Strength and conditioning
Qualifications
Level 2 – Fitness Instructor
Level 3 – Personal Trainer
First Aider