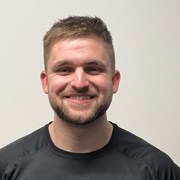 Ben Palmer
I'm BP (Ben), a health and fitness coach specialising in teaching individuals to lose 10kg+,Gain confidence & move well.
Without restrictive dieting
My mission is to give you the confidence and self-belief in the way you move, look and feel.
I used to find it really intimidating and disheartening anytime I walked into the gym, especially the weight area….
Fast forward today, now over 8 years of training experience, competing in numerous fitness competitions and 2 years of coaching under my belt, I've helped many people overcome that exact same feeling.
If you're someone that wants to feel confident again in & out the gym and know you can COMMIT to 90days of hard work and graft to finally feel like you belong in the weights section
Scan the QR code below , fill out the questions and let's have a chat.
Or grab me on the gym floor!
Specialist Areas
Bespoke plan
Body confidence
Body fat reduction
Functional specialist
Muscle tone and development
Nutritional guidance
Persistent motivation
Strength and conditioning
Weight loss
Qualifications
Level 3 Personal Trainer
Level 2 Fitness Instructor