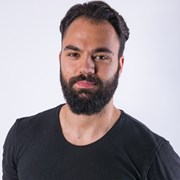 Bojidar Gudev
I've been a Personal Trainer for over 10 years and a ski racer for even longer. I love sports and believe everyone deserves to realise their full potential and live a healthier and more satisfying life.
In my experience I've worked with many amateur and professional athletes, runners and professional dancers, improving significantly their movement mechanics.
I believe in the personal approach and treat each new client with utmost care. We start with a detailed discussion of the set personal goals and take the initial measurements. After that, we perform manual testing to establish the movement pattern so we can first undo the bad movements due to certain lifestyle habits.
The technique allows us to momentarily improve the posture, flexibility and overall strength of the body so we can proceed to achieve the goals injury and pain-free.
Full body muscle activation available on request.
Specialist Areas
Bespoke plan
Body fat reduction
Functional specialist
Injury prevention and rehabilitation
Muscle tone and development
Nutritional guidance
Postural correction
Sport specific training
Strength and conditioning
Weight loss
Boxing
Qualifications
Level 4 Advanced Trainer
Level 4 Lower Back Pain
Level 3 Personal Training
Level 3 Exercise Referrals for Specific Controlled Conditions
Level 1 CrossFit
Animal Flow
Muscle Activation and Stress Release Therapy
PT Outdoors
Circuit Training
Indoor Cycling
Postural Correction
Female Body Transformation
Sports Massage Therapy