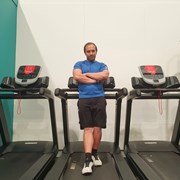 Brandon Pierce
Want to have fun while becoming the best version of yourself? Want to build lifelong habits which will set you up to be a healthier, fitter and healthier version of yourself? If you said yes to either of these I want to help you.
Becoming a better version of yourself doesn't have to be a chore or challenging. Fun but effective training has been my philosophy from day 1 and it has allowed me to help people achieve so many things to be proud of. I am deeply passionate about helping achieve their goals and beyond.
Due to my university background I like to take a unique academic and scientific approach to helping my clients get the most out everything we do both in and out the gym. But please, don't for a moment, think training with me is dull.
So whether it's to squeeze back into those pre-lockdowns jeans, to keep up with your kids or just be healthier and happier with yourself. Let me help you.
Come speak to me on the gym floor or drop me a message another way and let's set up a free taster session and get you on the road to achieving your fitness dreams.
Specialist Areas
Body fat reduction
Persistent motivation
Weight loss
Qualifications
First Class Honours Degree In Fitness and Personal Training
Biomechanics Trainer Award
Reps Level 2 Gym Instructor
Reps Level 3 Personal Trainer
Older Adults Training Award
Referred Clients Training Awards
Training and Nutrition Award