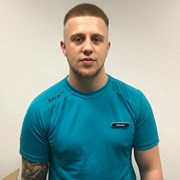 Brandon Wood
Make that change TODAY!
Are you struggling with being consistent at the gym? Getting that dreaded anxiety feeling as you walk in the gym? Struggling to plan your gym sessions?
I am here to help with that! With my experience and background as a Semi Professional Rugby Player and my interest and knowledge of the fitness industry, I know we will achieve YOUR goals as a team!
Fitness is a challenge, but if we work together we will see results. You'll be pushed to your limits to get the best outcome we can achieve!
It is my job to keep you motivated throughout your fitness journey & make it an enjoyable experience!
Any enquiries please don't hesitate to drop me a message on social media or approach me on the gym floor.
Instagram: branwoodfit
Facebook: Bran Wood Fitness
Phone Number: 07738891976
Email: [email protected]
Specialist Areas
Body fat reduction
Muscle tone and development
Weight loss
Qualifications
Level 3 Personal Training
Level 2 Gym Instructor
Level 2 Indoor Cycling
Level 2 Circuit Training
Level 2 Studio Resistance
Level 3 Outdoor Fitness
First Aid